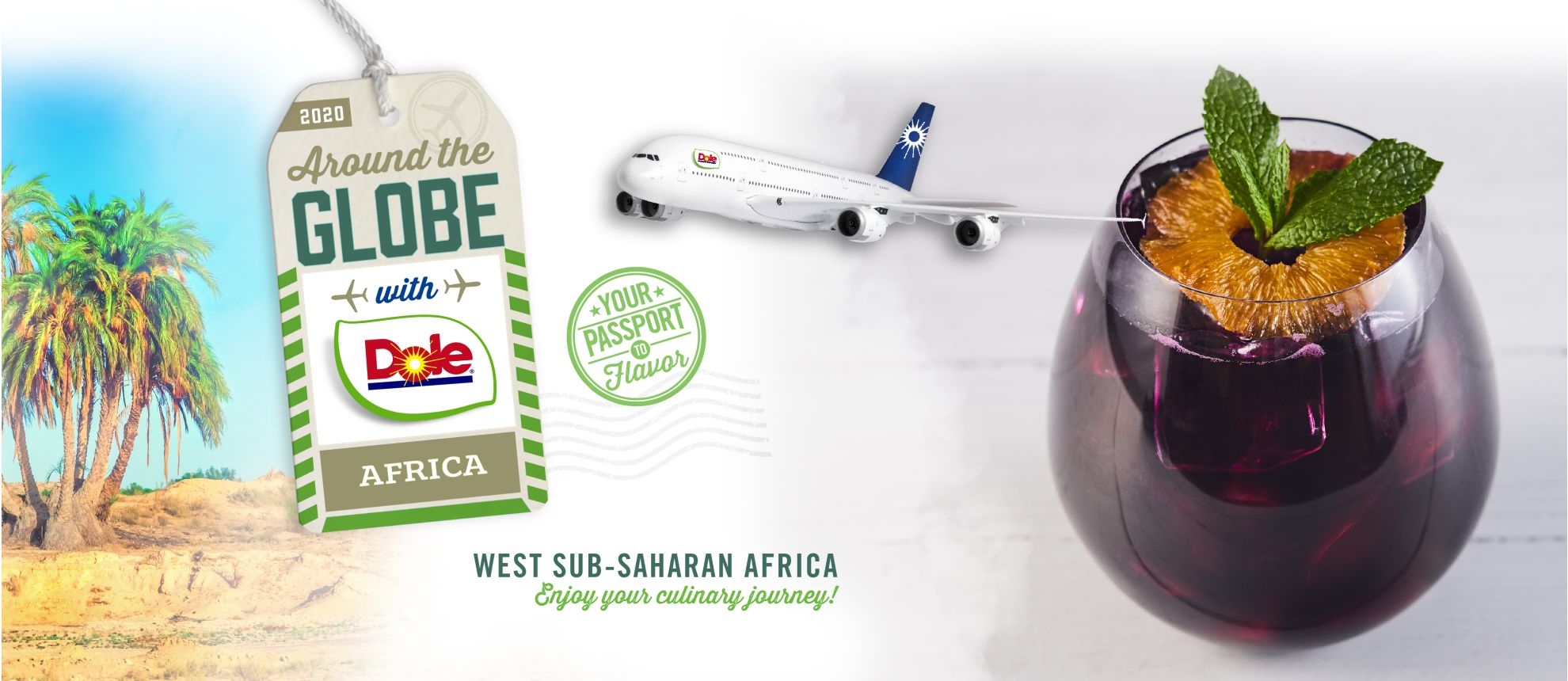 AFRICA
Welcome to the next stop on our journey Around the Globe with Dole. On this leg of the tour we will explore the flavors of Africa, focusing on two distinct regions – Sub-Saharan Africa and the East African Islands. We hope you enjoy your food journey and look forward to seeing you at our next destination, coming in November 2020.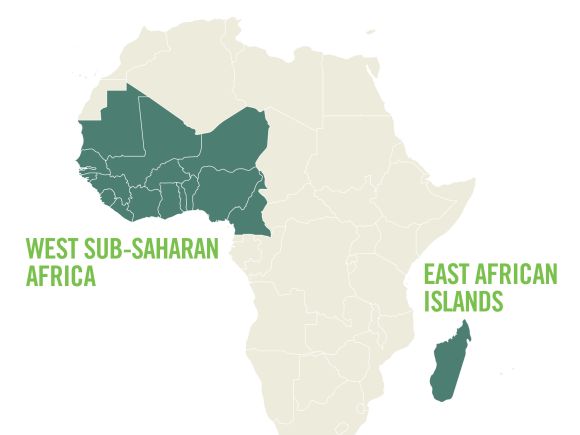 FLAVOR INSPIRATIONS FROM WEST SUB-SAHARAN
Some of today's most beloved cooking techniques including deep-frying and slow-cooking were actually introduced by the Sub-Saharan Africans. Staple ingredients and spices of this region include plantains, tomatoes, rice, garlic, ginger and nutmeg, making for a heavily plant-forward cuisine.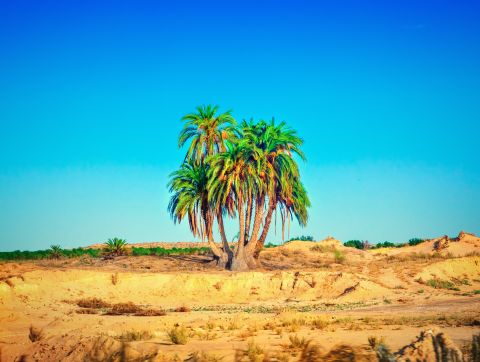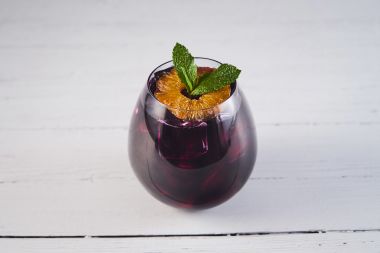 Pineapple & Hibiscus Infused African Tea (Pineapple Zobo)
An aromatic tea infused with cinnamon, ginger, hibiscus and pineapple.
DOLE® Pineapple Slices in 100% Pineapple Juice
DOLE 100% Pineapple Juice
GO TO THE RECIPE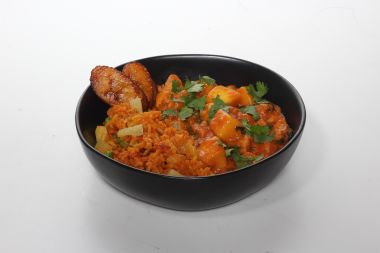 Senegalese Chicken & Mango Stew (Chicken & Mango Maffe Stew)
A hearty entrée featuring warm spices, basmati rice, green peas, pineapple and mango topped off with crispy, fried plantains.
DOLE® Pineapple Tidbits in 100% Pineapple Juice
Frozen DOLE Mango Chunks
GO TO THE RECIPE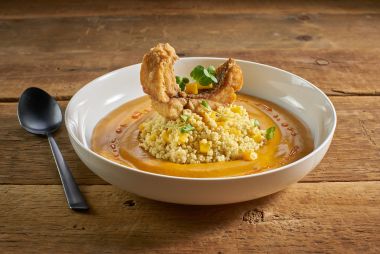 Nigerian Fish Stew (Oje Eja Tutu)
An aromatic stew featuring mango millet topped with a peach and red pepper broth, crispy fried snapper and finished with fresh micro greens.
DOLE® Chef-Ready Cuts Mango Cubes
DOLE Chef-Ready Peach Frozen Purée
GO TO THE RECIPE
FLAVOR INSPIRATIONS FROM EAST AFRICAN ISLANDS
With influences from several different cultures, East African cuisine consists of a melting pot of ingredients and cooking techniques. Spices are considered a key component of East African cooking and are heavily relied on for producing a robust, pure flavor.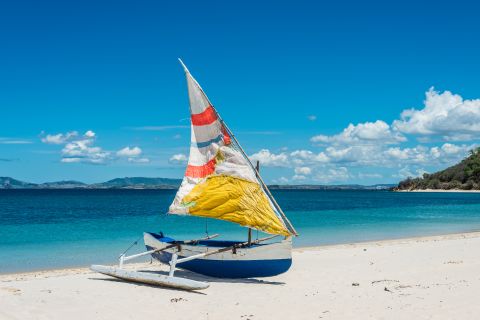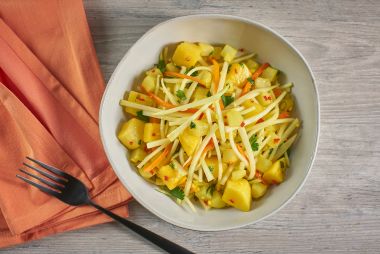 Sweet & Spicy African Fruit Salad (Satini)
A blend of green papaya, tart diced apples, sweet mango, crisp carrots and fresh cilantro make for a light and delicious fruit salad, finished with a sweet and spicy pineapple chili vinaigrette.
DOLE® Chef-Ready Cuts Diced Apples
Frozen DOLE Mango Chunks
DOLE 100% Pineapple Juice
GO TO THE RECIPE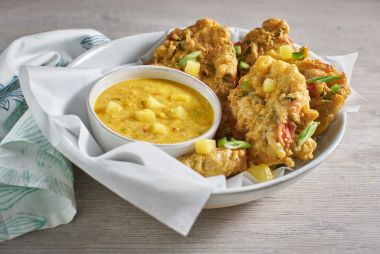 Vegetarian Pineapple Fritters with Pineapple Sauce (Mofo-Anana with Pineapple Sakay)
A crispy vegetarian fritter served with a Pineapple Sakay sauce featuring chilis, garlic, ginger, turmeric, pineapple and lime juice.
DOLE® Chef-Ready Cuts Pineapple Cubes
DOLE Crushed Pineapple in 100% Pineapple Juice
GO TO THE RECIPE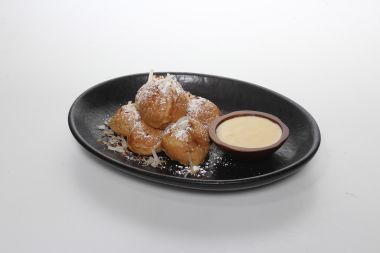 Madagascan Breakfast Pancake (Mofo Gasy)
A mango-infused breakfast cake topped with a fruity mango coconut honey and finished with toasted coconut.
DOLE® Chef-Ready Cuts Mango Cubes
DOLE Chef-Ready Mango Frozen Purée
GO TO THE RECIPE
Explore Our Journeys

Past and Present