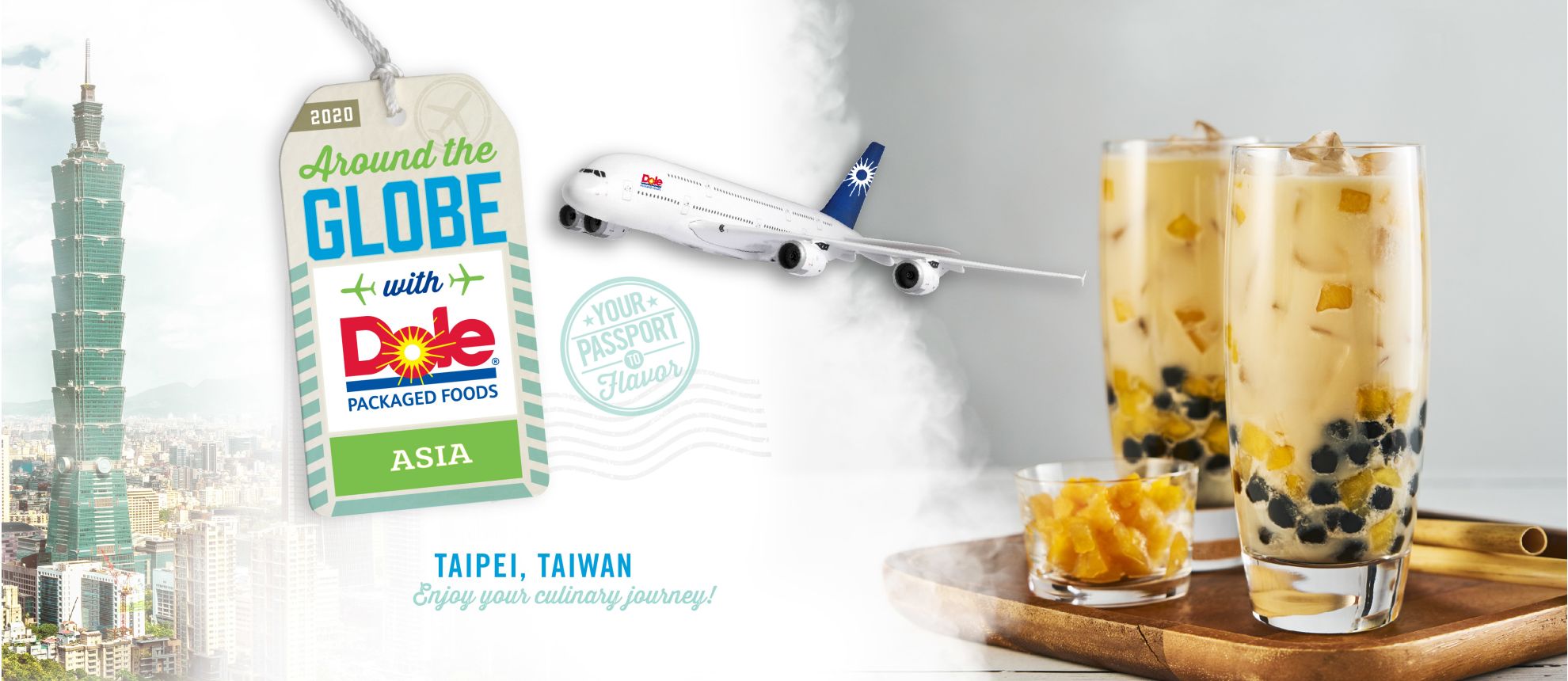 WHY ASIA
Continue your culinary exploration of the world with Dole®. This time around we're taking you on an adventure focusing on produce-centric and street food inspired culinary creations. Beginning in Asia, where the exotic flavors of the world's largest continent can be found on every corner, examine the colonial and trade influences on Taiwanese cuisine, the vast ecosystem and abundance of the Mekong River Delta in Vietnam, and the cultural melting pot of Indonesia. With food that is guaranteed to satisfy and tempt, you'll be headed Around the Globe with Dole.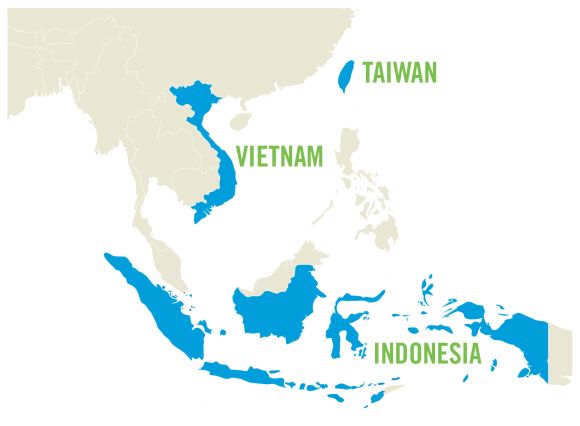 FLAVOR INSPIRATIONS FROM TAIPEI
Taipei is a cultural beacon in the North East, as the capital, it sees trade and foreign influence mix with its national pride to produce delicious dishes such as Green Onion Pancakes (Cōng Yóubǐng) and the global favorite bubble milk tea! With a densely populated island sitting in a sub-tropical location, there is a great utilization of fruits and vegetables to alleviate a dependency on animal protein.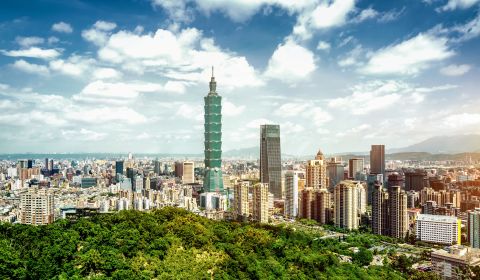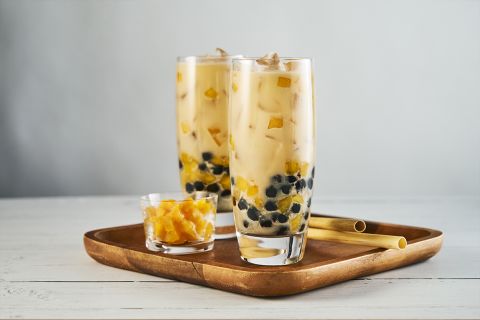 Peach & Winter Melon Bubble Tea
Fresh tea made with winter melon and heavy cream. Studded with ripe peach and tapioca pearls.
DOLE® Chef-Ready Cuts Diced Peaches
GO TO THE RECIPE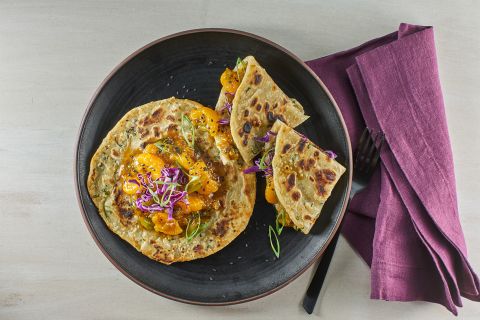 Asian Sweet and Savory Pancake (Grilled Mandarin Orange Cōng Yóubǐng)
A light and flaky pancake filled with minced spring onion griddled until golden brown. Topped with grilled hoisin-marinated mandarin oranges, topped with fresh spring onion.
DOLE® Mandarin Oranges in 100% Fruit Juice
GO TO THE RECIPE
Sweet and Sour Dumpling (Hot and Sour Xiao Long Bao)
Steamed dumpling filled with sweet and sour soup full of pineapple, firm tofu, bamboo shoots, shiitake mushroom and green onion. Served with a side of pineapple and ginger black vinegar.
DOLE® 100% Pineapple Juice
DOLE Pineapple Tidbits in 100% Pineapple Juice
DOLE Crushed Pineapple in 100% Pineapple Juice
GO TO THE RECIPE
FLAVOR INSPIRATIONS FROM BALI
With more than 17,000 islands nestled between the Indian and Pacific oceans, Indonesia captures a kaleidoscope of culinary influences both religious and agriculturally shaped. With many varied regional culinary traditions, there are influences from all over, ranging from the Middle Eastern, Indian, Chinese and Polynesian. With the flavor prominence of savory, hot and spicy we see the popular Sambal being used as well as many ripe fruits and vegetables. Eye catching dishes such as healthy smoothie bowls, savory fried rice (Nasi-Goreng) and sweet stuffed soufflé-style pancakes (Martabak) in the island of Bali.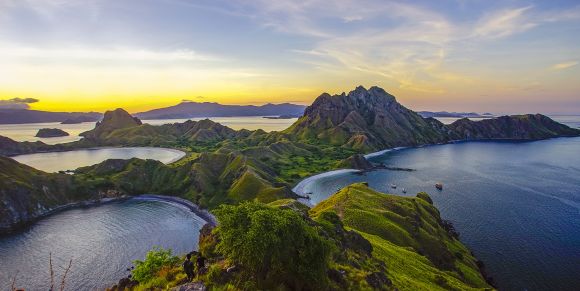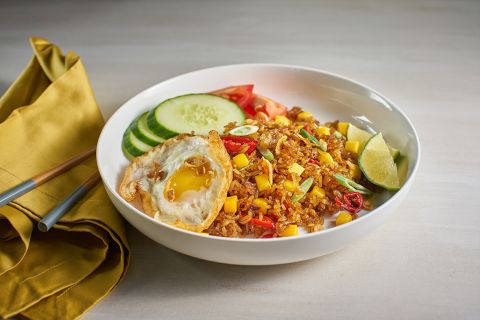 Indonesian Rice Bowl (Mango Nasi Goreng)
Fluffy white rice, wok-fried with sweet kecap manis, mango, garlic and red chili peppers. Finished with green onion and fried shallots all served with a side of sliced cucumber, tomato wedges, and lime.
DOLE® Chef-Ready Cuts Mango Cubes
GO TO THE RECIPE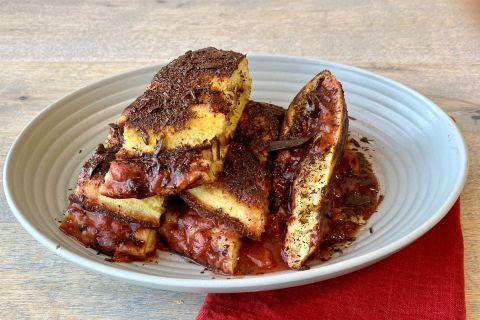 Strawberry and Dark Chocolate Stuffed Pancake (Strawberry & Dark Chocolate Martabak)
A thick Indonesian pancake stuffed with sweet strawberry sauce and shaved dark chocolate. Folded over in a half-moon shape then brushed with butter and drizzled with strawberry sauce.
DOLE® Chef-Ready Cuts Diced Strawberries
DOLE Chef-Ready Strawberry Frozen Purée
GO TO THE RECIPE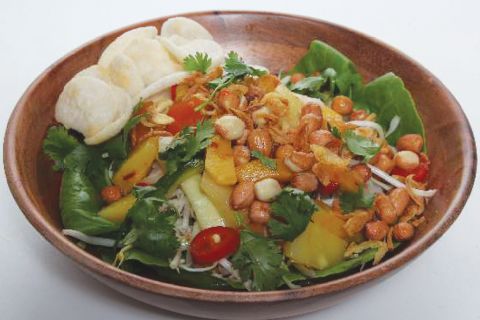 Asian Pickled Fruit Salad (Asinan Bogor)
A spicy pickled fruit salad of pineapple, sliced mango, papaya, cucumber and jicama. Topped with roasted peanuts and fried shallots. Served in lettuce cups with a side of puffed shrimp chips.
Frozen DOLE® Pineapple Chunks
Frozen DOLE Mango Halves
Frozen DOLE Papaya Chunks
GO TO THE RECIPE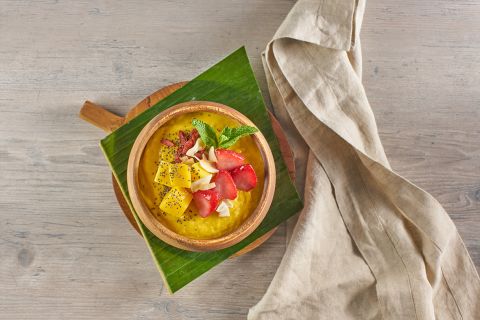 Mango Turmeric Bali Bowl
A mango smoothie bowl blended with coconut lassi, turmeric and pineapple juice. Topped with sliced strawberry, mango, goji berry, toasted coconut and mint.
DOLE® Chef- Ready Mango Frozen Purée
DOLE 100% Pineapple Juice
DOLE Chef-Ready Cuts Sliced Strawberries
DOLE Chef-Ready Cuts Mango Cubes
GO TO THE RECIPE
FLAVOR INSPIRATIONS FROM MEKONG RIVER DELTA
Vietnam and the agricultural ecosystem of the Mekong River Delta is our final stop of our tour in Asia. A vast expanse filled with rivers, rice paddies and floating markets, this area houses over 21 million people with delicious cuisine influenced by French colonialism and an abundance of produce. The prevalent Banh Mi sandwich and rainbow inspired cold vermicelli noodle salads covered in shaved vegetables and grilled fruit are just a tiny glimpse at the diversity of the region. This is contrasted by the smooth Banh Flan, reminiscent of French days past. With bold spice and produce-centricity in every bite, the stop in Vietnam was inevitable!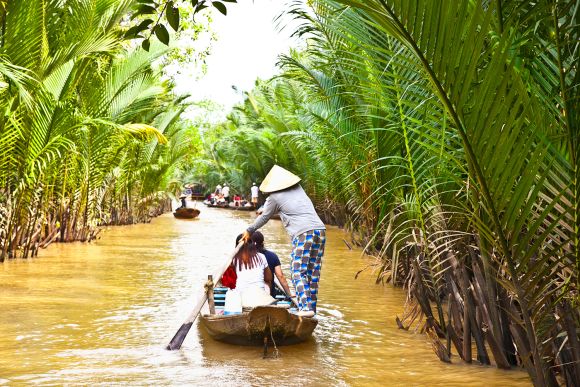 Grilled Portabella Mushroom & Blackberry Sriracha Banh Mi
Fresh French baguette filled with grilled char siu portabellas, sweet and sour mango, ribbon cut pickled carrots, thin shaved jalapeño, daikon radish and fresh cilantro. All finished with a drizzle of blackberry sriracha.
DOLE® Chef-Ready Cuts Mango Cubes
DOLE Chef-Ready Blackberry Frozen Purée
GO TO THE RECIPE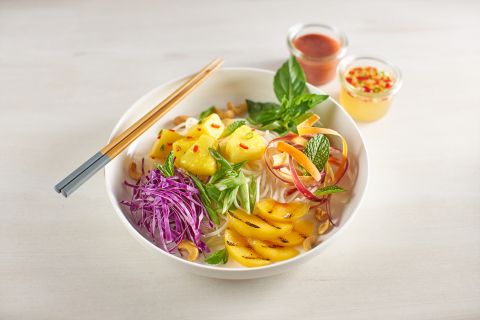 Pineapple and Peach Vermicelli Salad (Pineapple and Peach Bún Chay Salad)
A fresh vermicelli salad topped with grilled peach slices, marinated pineapple, rainbow carrot slices, shredded purple cabbage, sliced green onion, fresh mint, Thai basil and toasted cashews. Served with side of nuoc cham and strawberry sriracha.
Frozen DOLE® Pineapple Chunks
Frozen DOLE Sliced Peaches
DOLE Chef-Ready Strawberry Frozen Purée
GO TO THE RECIPE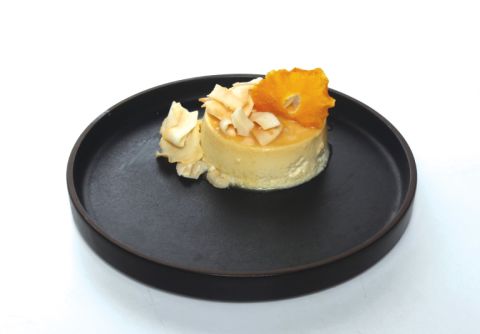 Coconut Pineapple Banh Flan
Creamy rich coconut flan with sweet pineapple caramel, finished with toasted coconut and a dehydrated pineapple slice.
DOLE® 100% Pineapple Juice
DOLE Pineapple Slices in 100% Pineapple Juice
GO TO THE RECIPE
Explore Our Journeys

Past and Present