Hot and Sweet Chicken Satay Salad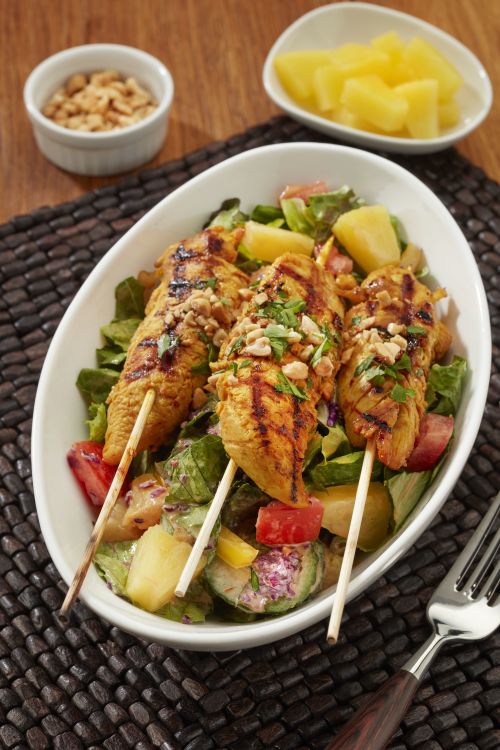 Ingredients
Hot and Sweet Satay Marinade, recipe below
Wooden Skewers, soaked, as needed
15 cups Salad Greens
2 ½ cups DOLE Tropical Gold Pineapple Pizza Wedges, drained
2 ½ cups Bell Pepper, thinly sliced
2 ½ cups Cucumber, thinly sliced
2 ½ cups Tomato, deseeded, large diced
2 ½ cups Purple Cabbage, shredded
1 ¼ cups Sweet and Spicy Peanut Dressing, recipe below
Cilantro, for garnish
Roasted Peanuts, chopped, for garnish
Hot and Sweet Satay Marinade
¼ cup Coconut Milk
2 tablespoons Soy Sauce
1 tablespoon Fish Sauce
3 tablespoons Sambal
3 tablespoons Garlic, minced
1 tablespoon Ginger, grated
1 tablespoon Brown Sugar
1 ½ teaspoons Turmeric
2 ½ teaspoons Yellow Curry Powder
3 pounds Boneless Skinless Chicken Thighs, cubed
Sweet and Spicy Peanut Dressing
1 tablespoon Brown Sugar
¾ cup DOLE Pineapple Coconut 100% Juice Mix
1 ½ tablespoons Lime Juice
⅓ cup Red Wine Vinegar
3 tablespoons Soy Sauce
⅓ cup Peanut Butter
4 ½ teaspoons Sambal
1 ½ teaspoons Ginger, grated
Directions
Hot and Sweet Satay Marinade
In a medium mixing bowl combine all the ingredients, refrigerate for at least 1 hour, can be done overnight.
Sweet and Spicy Peanut Dressing
Combine all ingredients in a small bowl and whisk thoroughly until homogenous. Alternatively, place all ingredients in a squeeze bottle and shake vigorously until homogenous.
Assembly
Preheat the grill on high heat, ensuring to well oil the grates so the chicken does not stick.
Take the chicken out of the marinate and stick on the soaked skewers, leaving at least 1½ inches of space to hold the skewers at the blunt end. There should be about 20 skewers total.
Once all the chicken is on skewers, begin to place them on the grill. Grill for 4-5 minutes before flipping over, then grill until the chicken is done, roughly 4-5 minutes, flipping to your preference.
While the skewers are grilling, in a large bowl toss the salad greens, pineapple, bell pepper, cucumber, tomato, purple cabbage, and sweet and spicy peanut dressing together.
To serve, portion the salads into bowls, and top each with 2 chicken satay skewers then garnish with cilantro and chopped roasted peanuts.