St. Martin's Roll
A flaky apple-filled croissant coated with vanilla cinnamon glaze and topped with a sprinkling of chopped nuts and raisins. Perfect as an afternoon snack or late morning treat.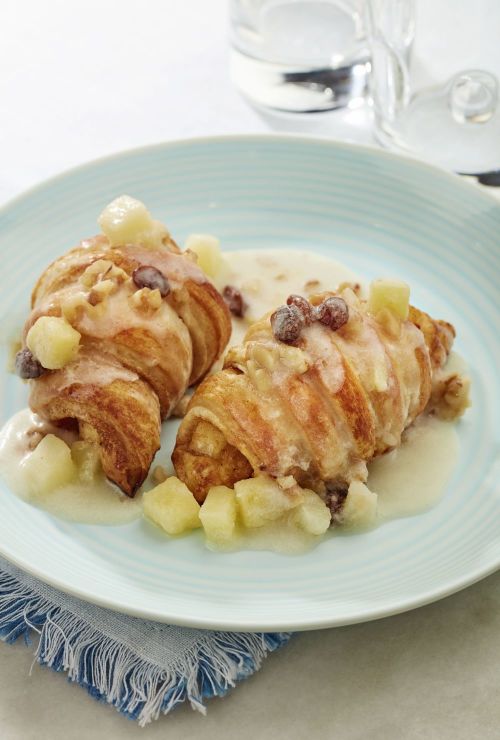 Ingredients
3 sheets pre-made puff pastry
¼ cup unsalted butter, melted
2 cups DOLE® Chef-Ready Cuts Diced Apples
½ cup DOLE Raisins
½ cup brown sugar
2 tsp + dash cinnamon, divided
1 tsp nutmeg
½ tsp allspice
Cane sugar, as desired
1 cup confectioner's sugar, sifted
1 tsp kosher salt
2 Tbsp whole milk
2 Tbsp unsalted butter, melted
1 tsp vanilla
¼ cup walnuts, chopped
Directions
Pre-heat oven to 375˚F. Lay out each puff pastry sheet on a clean flat surface, cut into 10 long triangles, 4-inches wide at the base.
In a bowl, mix the butter, apples, and raisins.

In another bowl, mix the brown sugar, 2 tsp cinnamon, nutmeg, and allspice. Evenly divide the sugar mixture on top of the puff pastry triangles and press it down into the dough with your hand so that it really sticks.

Scoop the apple and raisin mix on the wide end of each triangle and roll up the puff pastry towards the top of the triangle, creating the traditional croissant scroll shape. Reserve ½ cup of mixture for garnish.
Place on a lined baking sheet. Brush the remaining butter that was in the apple bowl on top of each roll and sprinkle rolls with cane sugar and a dash of cinnamon. Bake at 375˚F for 12-14 minutes.
While they are baking, whisk together the confectioner's sugar with the salt, milk, butter, and vanilla in a small bowl.
Fold in the copped nuts and ½ cup reserved apple and raisin filling. Drizzle over cooked croissants.
Explore DOLE Products in This Recipe