Jackfruit Tacos with Smoky Mango Salsa
Sweet, spicy and vegetarian-friendly. These tacos feature seasoned jackfruit, topped with a smoky mango salsa, guacamole, sour cream, and queso fresco.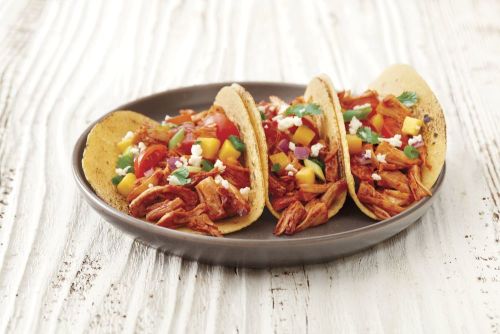 Ingredients
Smoky Mango Salsa Ingredients
2 cups DOLE Chef-Ready Cuts Mango Cubes, thawed
½ cup poblano peppers, roasted, skin removed, diced
⅔ cup red onion, diced
½ cup cherry tomatoes, quartered
¼ cup cilantro, chopped
2 Tbsp scallions, chopped
⅓ cup DOLE Chef-Ready Frozen Mango Purée, thawed
¼ cup lime juice, more to taste
1 Tbsp smoky Mexican chili powder
1 Tbsp salt, more to taste
1 oz package taco seasoning
12 oz DOLE Young Green Shredded Jackfruit
6 corn tortillas
Smoky Mango Salsa (sub recipe)
guacamole
sour cream
queso fresco
Directions
Salsa Directions
Gently fold together all ingredients to assure that the mangos do not get damaged. Taste and adjust salt and lime juice accordingly. Allow to marinate in the refrigerator for at least an hour. Reserve for later use.
Taco Assembly Directions
On a small plate, place the tortillas and fill each with the jackfruit mixture. Top the jackfruit with the smoky mango salsa, guacamole, sour cream and queso fresco.
Toast the corn tortillas lightly or warm in a warmer.
Combine jackfruit and seasoning in a saute pan. Cook over medium heat until warm.