Tajin Whipped Smoothie
(2021 Pairings - Regional Mexico - Americas) From Jalisco - Borrowing inspiration from a classic street treat, this frozen drink is made from frozen pineapple, papaya, guava, and mango blended with pineapple juice and Tajin seasoning.  Served with Tajin-dusted tropical fruit and shredded coconut.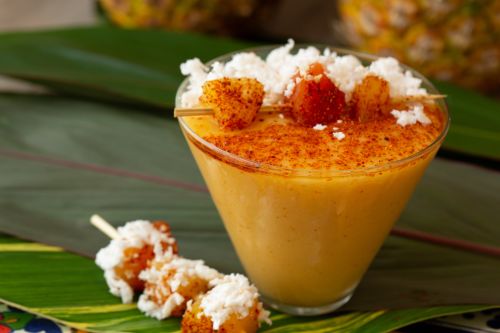 Ingredients
5 cups DOLE Tropical Fruit drained and divided
4 Tablespoons + more to garnish tajin seasoning divided
1 cup + garnish shredded coconut
2 cups Frozen DOLE Pineapple Tidbits
2 cups DOLE Chef-Ready Cuts Mango Cubes partially thawed
3 cups DOLE Pineapple Juice chilled
Directions
Using 2 cups of Tropical Fruit Salad and 10 6-inch wooden skewers, alternate tropical fruit pieces with 9 pieces per skewer.
Sprinkle 2 Tablespoons of tajin seasoning over one side of the skewers. Then place coconut in a small plate and roll other side of skewers in coconut.
In a blender, place pineapple tidbits, 3 cups tropical fruit, mangos, pineapple juice and 2 Tablespoons tajin seasoning and mix on medium for 1 minute or until well combined.
Pour into glasses and put 1 skewer per glass across the top. Sprinkle the top of the glass with coconut on 1 half and tajin seasoning on the other.