Pulled Jackfruit Sandwich with Okra and Mango Succotash
2020 Passport to Flavor recipe - Americas A sandwich full of classic southern flavors with a vegetarian twist, featuring peach BBQ glazed pulled jackfruit and a crispy red cabbage slaw served with a flavorful mango and okra succotash.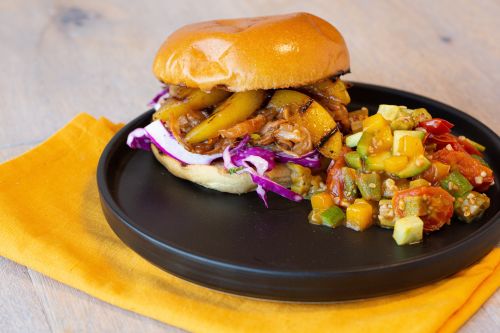 Ingredients
5 cups tomato sauce
1-½ cups apple cider vinegar
½ cup packed brown sugar
½ cup Worcestershire sauce
2 Tablespoons onion powder
2 Tablespoons garlic powder
8-½ teaspoons kosher salt divided
¼ teaspoon ground cayenne pepper
5 cups DOLE Chef-Ready Peach Frozen Puree thawed
2 cups shredded red cabbage
½ cup scallions sliced thin
1 cup mayonnaise
4 Tablespoons agave syrup
2 Tablespoons white wine vinegar
½ teaspoon + extra ground black pepper divided
6 cups DOLE Chef-Ready Cuts Mango Cubes thawed
6 cups fresh okra
14 peeled garlic cloves divided
3 cups cherry tomatoes cut in half
3 cups diced English cucumber
¾ cup fresh basil thinly sliced
6 Tablespoons olive oil divided
5 yellow onion small dice
10 20 ounce cans green jackfruit in water rinsed pulled
2-½ pints peach BBQ sauce sub-recipe
½ cup water
2 pounds frozen DOLE Sliced Peaches
10 brioche bun toasted
2 cups red cabbage slaw sub-recipe
1 cup okra and mango succotash sub-recipe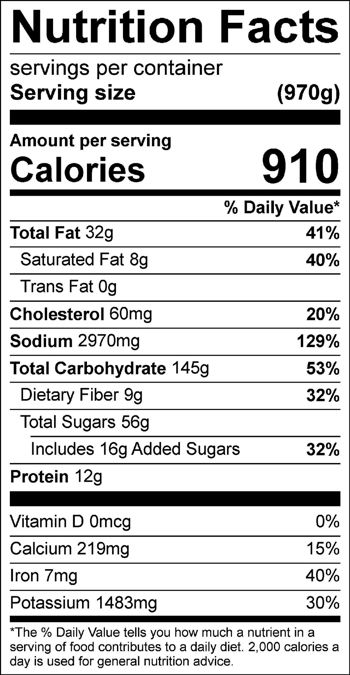 Directions
To Prepare Peach BBQ Sauce:

1. Combine tomato sauce, apple cider vinegar, brown sugar, wochestershire sauce, onion powder, garlic powder, 2 Tablespoons kosher salt, cayenne pepper and peach puree in a large saucepot set over medium heat.

2. Bring to a low boil, reduce to simmer, and stir until mixture reduces by half and thickens.

3. Remove from heat and reserve.

To Prepare Red Cabbage Slaw:

1. Combine the shredded cabbage and sliced scallions in a large bowl.

2. In a small bowl, whisk together the mayonnaise, agave syrup, white wine vinegar, 1 teaspoon kosher salt and a small amount of black pepper to taste. Add the mixture to the cabbage.

3. Fold together with a rubber spatula gently until slaw is dressed.

4. Refrigerate.

To Prepare Okra & Mango Succotash

1. Thaw mango cubes in a fine mesh strainer over a bowl or sink. Discard excess liquid.

2. Wash and trim the okra, cutting off and discarding the stem ends. Small dice.

3. In a medium saucepan, heat 2 Tablespoons olive oil and sauté 9 minced garlic cloves for about 1 minute until it just turns a golden brown. Add cherry tomatoes and cook for 1 minute.

4. Add the okra and mango to the saucepan. Cook 15-20 minutes until okra is tender. Remove from heat.

5. Cool to room temperature and stir in the cucumber, 1-1/2 teaspoons kosher salt and 1/2 teaspoon pepper.

6. Garnish with basil.

To Prepare Pulled Jackfruit:

1. In a skillet over medium heat, heat 1/4 cup olive oil. Add onion; cook for 5-7 minutes, until tender. Add 5 cloves minced garlic; cook for another minute.

2. Add the jackfruit, BBQ sauce, and 1/2 cup water. Stir and cover; lower heat to medium-low. Cook for 15 minutes, then stir again, adding more water if needed. Cover and cook for another 15 minutes.

3. Using a fork, shred any large pieces of jackfruit until it resembles pulled pork. Add kosher salt to taste. Set aside.

4. Grill peach slices from frozen over medium high heat until well charred grill marks appear. Set aside.

To Serve:

1. Warm brioche bun. Place bottom half of warmed bun on service plate.

2. Add a 1/3 cup of jackfruit to warmed bun.

3. Top with the red cabbage slaw and grilled peach slices; finish with the top bun.

4. Serve with a side of okra and mango succotash.