Zaatar Crusted Shishlik with Apple Tahini Sauce
(2018 Pairings Recipe) Tasty lamb kebobs with a fruity tahini sauce.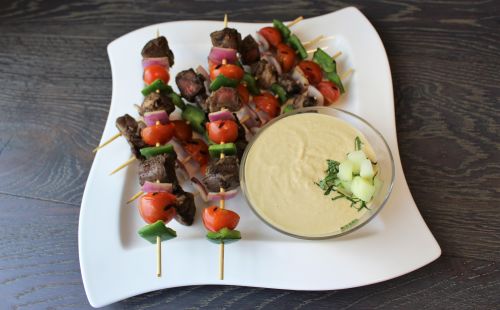 Ingredients
2 Tbsp plus 1 tsp kosher salt divided
2 tsp ground black pepper
1-½ cups red onion peeled 34 dice
1-½ cups green bell pepper seeded 34 dice
1-½ cups cherry tomatoes halved
3 Tbsp zaatar
1 tsp chili powder
1 lb lamb leg boneless trimmed 2 cubes
1-½ cups extra virgin olive oil divided
¾ cup fresh lemon juice divided
2 cups DOLE Chef-Ready Cuts Diced Apples thawed
¾ cup tahini paste
¼ cup water
Directions
Combine kosher salt, black pepper, zaatar spice, and chili powder In a small mixing bowl and stir to fully incorporate.

Combine lamb leg and mixed spice blend in a medium-sized mixing bowl until the meat is fully coated. Add 1/2 cup olive oil and 1/2 cup lemon juice and toss gently to fully incorporate. Cover and refrigerate for a minimum of 2 hours.

Combine apples, tahini paste, remaining 1/4 cup lemon juice, water, and remaining 1 teaspoon kosher salt in a blender. Blend on medium speed until a smooth paste forms. Slowly drizzle extra-virgin olive oil until fully incorporated. Transfer to a medium-sized serving bowl and set aside.

Preheat

oven to 350° F. Using a slotted spoon, remove lamb from Zaatar marinade and space evenly on a parchment-lined sheet pan. Cook lamb legs for 12 minutes, remove from oven and set aside to cool. 

Preheat grill on highest temperature setting.

Arrange 4 cooked lamb cubes, 4 red onion pieces, 4 green bell pepper pieces, and 4 halved cherry tomatoes on a 10" skewer, in desired sequence. Place skewers on grill and grill on each side for 1 minute.
Remove from grill and place skewers on large plate or serving platter with prepared bowl of apple tahini. Serve immediately.
Explore DOLE Products in This Recipe