Hawaiian Zapiekanka (Hawaiian-Style Open Faced Sandwich)
A crispy baguette served open face with a mixture of mushrooms, kielbasa, mozzarella, black olives and pineapple wedges, drizzled with a Pineapple Paprika Ketchup.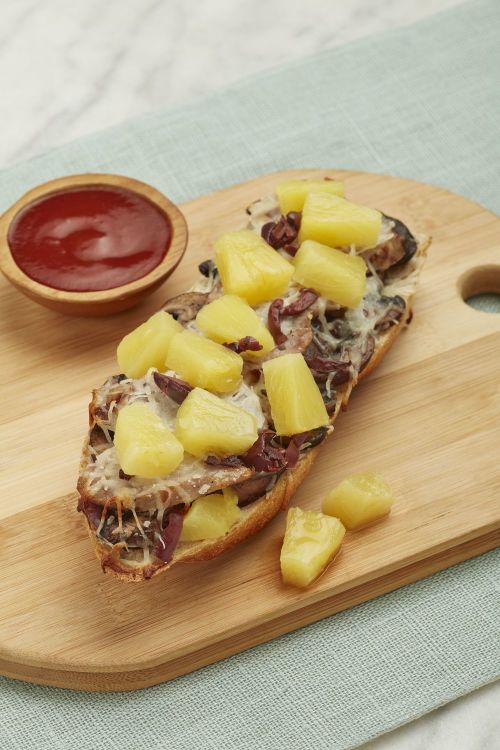 Ingredients
Pineapple Paprika Ketchup:
1 cup ketchup
½ cup pineapple juice, reserved juice from DOLE® Pineapple Wedges
1 Tbsp paprika
1 Tbsp horseradish, grated
Zapiekanka Ingredients:
5 French baguettes, sliced in half
20 ounces mushrooms, sliced and sautéed in olive oil
20 ounces kielbasa, cooked and sliced thin
10 ounces mozzarella, shredded
5 ounces black olives
20 ounces DOLE Tropical Gold® Pineapple Pizza Wedges, drained & juice reserved
¼ cup basil, for garnish
Directions
Prepare Pineapple Paprika Ketchup:
Mix ketchup, pineapple juice, paprika, and horseradish in small saucepan and heat for 5 minutes over low. Keep warm for service.
Make Hawaiian Zapiekanka:
Preheat oven to 425˚F. Place baguette halves on cookie sheet. Layer mushrooms onto bread, then a layer of kielbasa. Add mozzarella and top with olives and pineapple wedges. Cook for 10 minutes in oven.
Garnish with basil and drizzle with warm Pineapple Paprika Ketchup.
Explore DOLE Products in This Recipe