Cherry Glazed Pork Golabki (Stuffed Cabbage Rolls)
Steamed cabbage leaves stuffed with seasoned rice and minced pork marinated in the juice of sweet dark cherries, topped with a tart tomato and cherry sauce.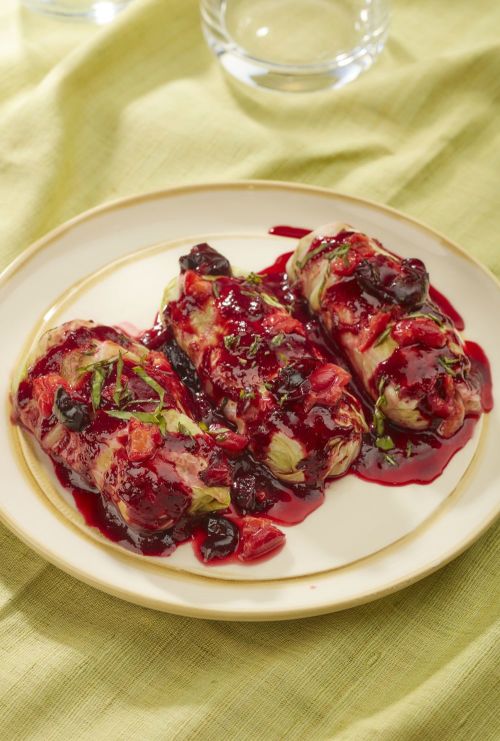 Ingredients
CHERRY GLAZE:
½ cup DOLE® IQF Dark Sweet Cherries, defrosted, chopped, reserve juice
½ cup DOLE IQF Red Tart Cherries, defrosted, chopped, reserve juice
1 cup cherry juice, reserved from defrosted cherries
1 tsp nutmeg
1 tsp paprika
2 Tbsp black pepper
1 Tbsp salt
Golabki Ingredients:
20 large cabbage leaves
2 pounds ground pork, cooked
2 pounds ground beef, cooked
1 cup white rice, cooked
2 eggs, beaten
½ cup heavy cream
¼ cup carrots, grated
¼ cup celery, minced
¼ cup onion, minced
2 tsp garlic, minced
1 Tbsp paprika
2 Tbsp salt
2 Tbsp pepper
1 Tbsp basil, chopped
Directions
PREPARE CHERRY GLAZE:
Add cherries, cherry juice, nutmeg, paprika, pepper, and salt in saucepan and cook for 10 minutes.
Blend to a smooth sauce, if desired or leave chunky. Set aside.
MAKE THE GOLABKI:
Steam cabbage heads for 10 minutes to make more flexible. Pick 20 leaves and lay out on flat surface.
In a bowl add pork, beef, rice, eggs, cream, carrots, celery, onion, garlic, paprika, salt, and pepper. Mix thoroughly.
Place equal amounts of mixture on each cabbage leaf and roll. Place cabbage rolls in a pan and top with the cherry glaze. Cook in 350˚F oven for 30 minutes.
Top with chopped basil and serve.
Explore DOLE Products in This Recipe