Zaanse Mostardsoep (Dutch Mustard Soup)
A savory cream-based soup spiced with apples, mustard and leeks, then garnished with crispy pancetta and roasted apples.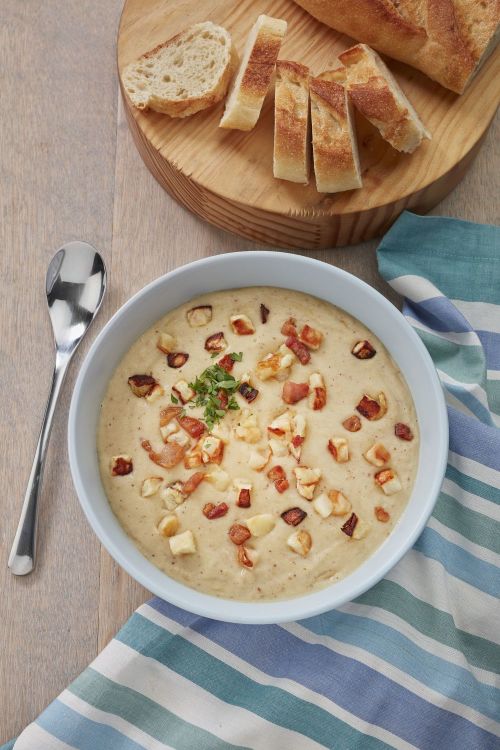 Ingredients
2 Tbsp butter
1 pound pancetta, chopped
2 medium yellow onion, chopped
3 leeks, chopped
2 Tbsp garlic, chopped
1 large potato, peeled and diced
3 cups DOLE® Chef-Ready Cuts Diced Apples
½ cup white wine (riesling)
5 cups chicken stock
½ cup stone ground mustard
Salt and pepper, to taste
½ cup pancetta, cooked crisp
½ cup DOLE Chef-Ready Cuts Diced Apples, roasted
Directions
In a large stock pot over medium heat melt butter. Add pancetta and cook for 3 minutes.
Add onions, leeks, garlic, and potato and cook for 5 minutes or until onions are soft. Add apples and wine and cook for 5 additional minutes.
Add chicken stock and mustard, reduce heat to low. Simmer for 30 minutes or until apples and potatoes are soft.
Blend in batches until soup is smooth and mix all batches together in a pan and season to taste with salt and pepper. Keep warm for service.
Garnish with pancetta and roasted apples.
Explore DOLE Products in This Recipe