Blackberry Poffertjes (Mini Pancakes)
One of the most popular Dutch food items, these are small buckwheat and yeast pancakes, griddled in an iron skillet, and served with melted butter, dusted with powdered sugar, and smothered in blackberry-maple syrup.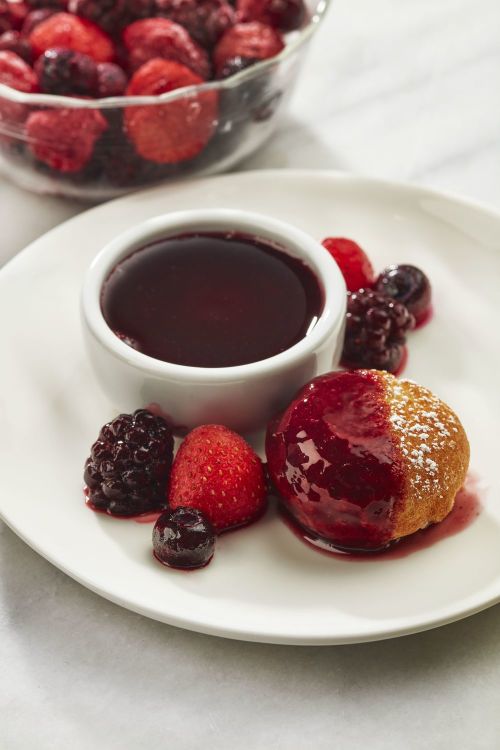 Ingredients
BLACKBERRY MAPLE SYRUP:
2 Tbsp sugar
1 tsp salt
1½ cup pure maple syrup
1 cup DOLE® IQF Blackberries, mashed
1 rosemary sprig
Poffertjes Ingredients:
1 tsp instant yeast
1½ cup milk, room temperature
3 eggs
½ tsp vanilla
1½ cup buckwheat flour
1½ cup white flour
¼ cup confectioner's sugar
1 cup DOLE IQF Mixed Berries, garnish
Directions
PREPARE BLACKBERRY MAPLE SYRUP:
eat sugar, salt, syrup, blackberry purée and rosemary in a small sauce pan over medium heat for 3-5 minutes, stirring often. Do not allow mixture to boil.
Remove from heat, discard rosemary, and set aside.
MAKE POFFERTJES:
In a large bowl add yeast to milk and allow to sit for 10 minutes.
Mix in eggs and vanilla to milk. Slowly add both flours while stirring. A batter will form.
Cook batter in preheated poffertjes pan cooking on each side for 1 minute. Carefully turn in pan and cook for an additional minute.

Remove from pan and sprinkle with confectioners' sugar.

Serve with a side of Blackberry Maple Syrup.
Explore DOLE Products in This Recipe