Tigania
Savory chunks of pork shoulder are pan-fried then simmered in a flavorful white wine and mandarin citrus sauce with the addition of sweet, dark cherries.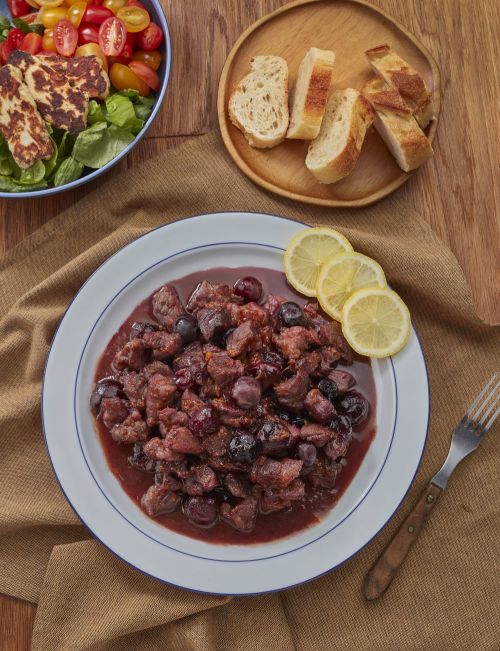 Ingredients
5 pounds boneless pork shoulder, cut into 1-inch chunks
1 Tbsp kosher salt
½ Tbsp black pepper
1 tsp oregano, dried
¾ cup extra virgin olive oil
2 cups DOLE® Mandarin Oranges in 100% Fruit Juice
1 cup dry white wine
1 cup DOLE IQF Dark Sweet Cherries
20 Romaine lettuce leaves picked and washed
3 cups cherry tomatoes, halved
10 haloumi cheese, ¼-inch thick slices, seared
Directions
In a mixing bowl, combine the pork, salt, pepper, and oregano.
Warm the oil in a skillet over medium-high heat. In batches, add the pork and brown on each side until crispy, about 3 minutes per side, then remove the pork using a slotted spoon and set aside.
Add the mandarin oranges and wine to the skillet, then simmer until reduced by one half, about 10 minutes, stirring frequently.
Return the pork and any accumulated juices to the skillet, then return to a simmer; cover, reduce heat to medium-low, and gently simmer until the pork is tender and cooked through, about 10 minutes. Using a slotted spoon, transfer the pork to a serving platter.
Increase the heat to medium-high add the cherries, and reduce the sauce, uncovered, until roughly a cup of liquid remains, about 10 minutes.
Pour the sauce over the pork and serve with a salad mix made of a couple of the romaine leaves, cherry tomatoes and a slice of haloumi cheese.
Explore DOLE Products in This Recipe