Kleftiko
This classic slow roasted lamb shoulder is cooked in parchment paper with potatoes and aromatics and is usually served at special occasions. An addition of stone fruit like peaches adds a touch of sweetness and Dole freshness.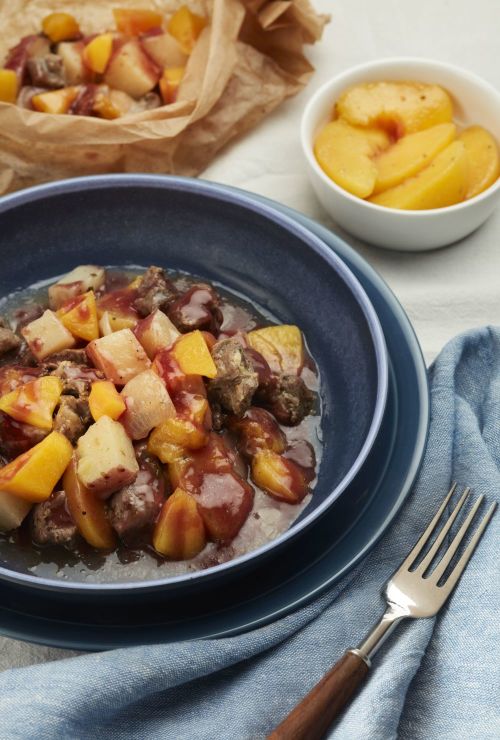 Ingredients
Sauce Ingredients:
1 cup red wine
1 cup peach purée
1 cup chicken stock
1 Tbsp garlic, minced
1 bay leaf
1 tsp salt
1 tsp pepper
1 tsp lime zest
¼ cup cornstarch slurry
Kleftiko Ingredients:
1 roll parchment paper
3 pounds leg of lamb, cubed into ½-inch pieces
2 pounds red potatoes, quartered
2 cups DOLE® IQF Peach Slices
2 Tbsp garlic, minced
1 yellow onion, rough cut
2 Tbsp oregano, dried
1 Tbsp rosemary, fine chopped
2 Tbsp salt
2 Tbsp black pepper
3 Tbsp olive oil
1 Tbsp lime juice
Directions
Prepare Roasted Lamb:
Preheat oven to 300˚F.
Place parchment paper on cookie sheet.

Place lamb, potatoes, peaches, onion, garlic, rosemary, oregano, salt, pepper, oil, and lime juice in a bowl and toss to coat evenly.

Set the seasoned lamb and potatoes on a cookie sheet lined with a large sheet of parchment paper

Fold the parchment paper into an envelope, and cook for 2 hours in oven.
To Make Sauce:
In a small saucepan over medium heat reduce wine by half.
Add purée, chicken stock, garlic, bay leaf, salt, pepper, lime zest, and cook for 10 minutes over low heat.
Add cornstarch slurry to pan and cook for 2 minutes or until thickened.
To Serve:
Add lamb mixture to saucepan and stir to combine. Portion into serving bowls.
Explore DOLE Products in This Recipe