Pineapple Pork Noodles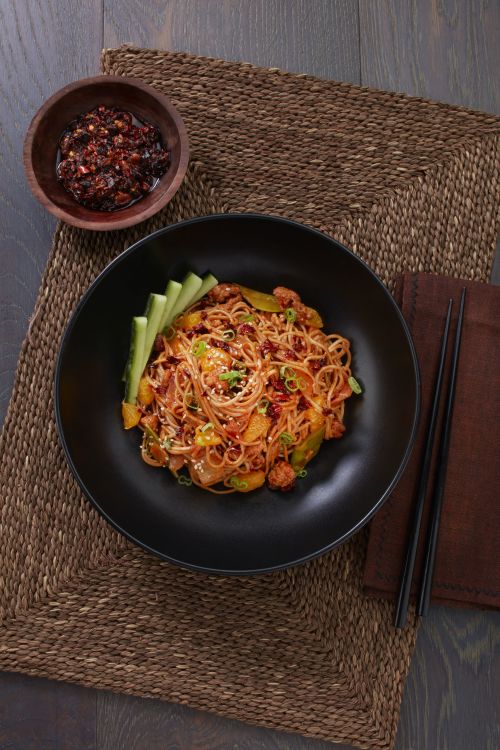 Ingredients
2 tablespoons Sesame Oil
2 cups Onion, small diced
1 cup Bell Peppers, julienned
4 tablespoons Garlic, minced
1 tablespoon Ginger, minced
2 pounds Ground Pork
1 ½ cups Snow Peas, chopped
Pineapple Sauce, recipe below
3 pounds Fresh Flour Noodles, pre-prepared
3 cups DOLE #10 Can Mandarin Oranges in Juice, strained, halved
Cucumber, julienned, for garnish
Chili Crisp, for garnish
Green Onion, chopped, for garnish
Pineapple Sauce
½ cup Chicken Stock
½ cup DOLE Canned Pineapple Juice
2 tablespoons Chili Bean Sauce
2 tablespoons Chinese Sweet Bean Sauce
2 tablespoons Dark Soy Sauce
4 teaspoons Chinese Black Vinegar
2 teaspoons Brown Sugar
Directions
Pineapple Sauce
Whisk all ingredients in a medium size bowl, set aside for future use.
Assembly
Heat sesame oil in a large wok or skillet over medium high heat. Add onions and bell peppers, cook until the onions are translucent for about 4 minutes.
Stir in the garlic and ginger and cook until fragrant, roughly 2 minutes.
Add ground pork and cook, stirring frequently until browned for about 6 minutes.
Add the snow peas and pineapple sauce, and cook for 3 to 5 minutes, or until most of the sauce has reduced and the snow peas have softened.
Remove from heat and gently stir in the prepared noodles and mandarin oranges.
Portion into serving bowls and top with cucumber, chili crisp, and green onion.