Egg Tarts with 5 Spice Apples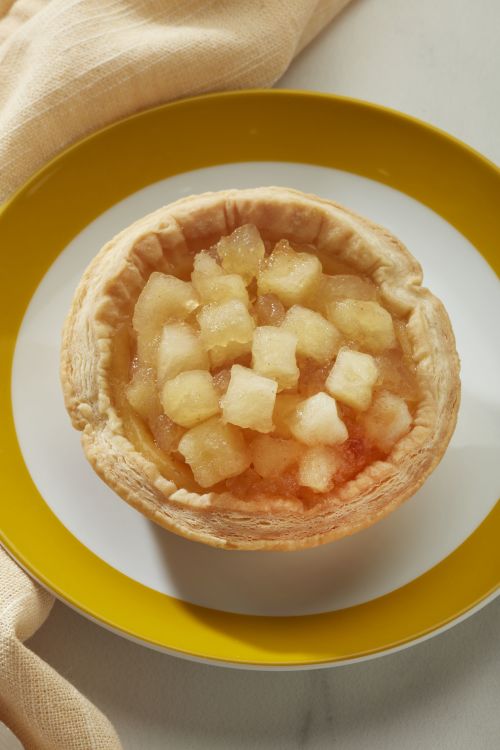 Ingredients
3 Eggs, room temperature
1 ½ cup Simple Syrup, room temperature
½ cup Evaporated Milk, room temperature
1 teaspoon Vanilla Extract
10 Puff Pastry Tart Shells, pre-made
1 cup 5-Spice Apple Compote, recipe below
5-Spice Apple Compote
⅔ cup Sugar
4 cups DOLE Chef-Ready Cuts Diced Apples, thawed
1 ½ teaspoons Chinese 5-Spice Powder
2 tablespoons Lemon Juice
1 teaspoon Vanilla Extract
Directions
5-Spice Apple Compote
Combine all ingredients in a medium pot over medium heat.
Cook down until the apples are tender and begin to fall apart, roughly 10 to 15 minutes.
Remove from heat and hold warm for later use.
Assembly
Preheat the oven to 400F.
In a mixer, whisk the eggs on a medium speed until well beaten, roughly 1 minute.
Add the simple syrup, evaporated milk, and vanilla extract and whisk for 2 minutes more at a medium speed until well combined.
Strain the mixture gently through a sieve 3 separate times, then portion into the pastry shells, filling each roughly 80% of the way full.
Bake the tarts for 15 minutes, then reduce the heat of the oven to 350F and bake for 10 minutes longer, or until the custard is set. Once done, leave the tarts in the oven with the door open for about 5 minutes, then remove from the oven.
Top each tart with 1 ½ tablespoons of the 5-spice apple compote and serve warm.