Pineapple Chicken Inasal Salad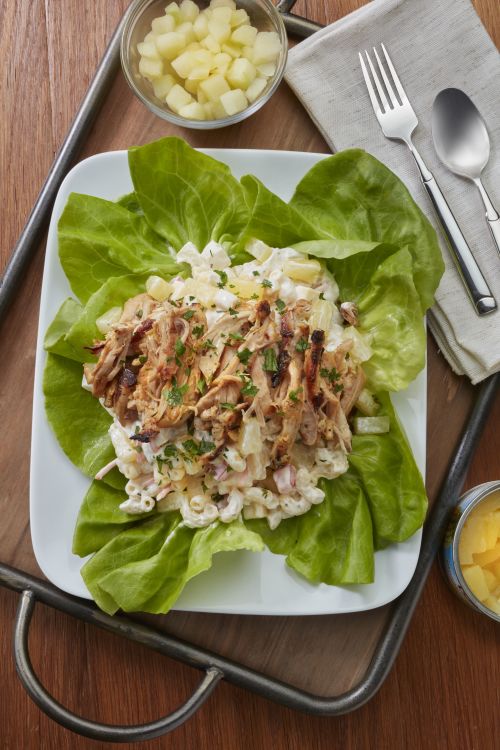 Ingredients
¾ cup Coconut Vinegar
¼ cup Light Brown Sugar
½ cup + 1 tablespoon DOLE Pineapple Tidbits in Juice, strained, reserved, juice
1 tablespoon Ginger, grated
3 tablespoons Garlic, minced
2 stalks Lemongrass
2 tablespoons Salt
½ tablespoon Ground Black Pepper
3 pounds Boneless Skinless Chicken Thighs
3 tablespoons Achiote Oil
½ cup Butter, melted
1 tablespoon Lime Juice
½ teaspoon Salt
10 cups Butter Lettuce, roughly chopped
Macaroni Salad, recipe below
Cilantro, for garnish
Macaroni Salad
1 pound Macaroni Pasta, cooked, cooled
2 cups Mayonnaise
2 tablespoons Sweetened Condensed Milk
½ cup Apple Cider Vinegar
2 tablespoons Coconut Vinegar
1 tablespoon Salt
2 teaspoons Black Pepper
¾ cup DOLE Chef-Ready Cuts Diced Apples, thawed
¾ cup DOLE #10 Can Pineapple Tidbits in Juice, strained, reserved, fruit
½ cup Carrots, shredded
1/3 cup Green Onion, sliced
¼ cup Red Bell Pepper, small diced
½ cup Celery, small diced
Directions
Macaroni Salad
In a large mixing bowl, mix all ingredients together until well combined. Let sit in refrigerator for roughly 1 hour to allow flavors to meld.
Assembly
In a blender, blend the coconut vinegar, brown sugar, pineapple juice, ginger, garlic, lemongrass, salt, and black pepper.
Pour the blended mixture into a food safe bag or container and marinate the chicken thighs in it for at least 2 hours.
Preheat the grill on high heat, ensuring to well oil the grates so the chicken does not stick.
In a small bowl combine the achiote oil, melted butter, lime juice, pineapple juice, and salt, and mix well to create the basting liquid.
Using a brush, baste one side of each chicken thigh with the basting liquid, then place the basted side of the chicken face down on the grill. Once on the grill, baste the top side of the chicken. Grill for 4-5 minutes before flipping over, repeating the basting process. Grill until the chicken is done, roughly 4-5 minutes, flipping and basting to your preference.
Remove the chicken from the grill and allow to rest for about 3 minutes, then shred the chicken.
To serve, place 1 cup of butter lettuce into serving vessels, top with ¾ cup macaroni salad and ½ cup of shredded chicken. Garnish with cilantro.