Shrimp and Mango Siu Mai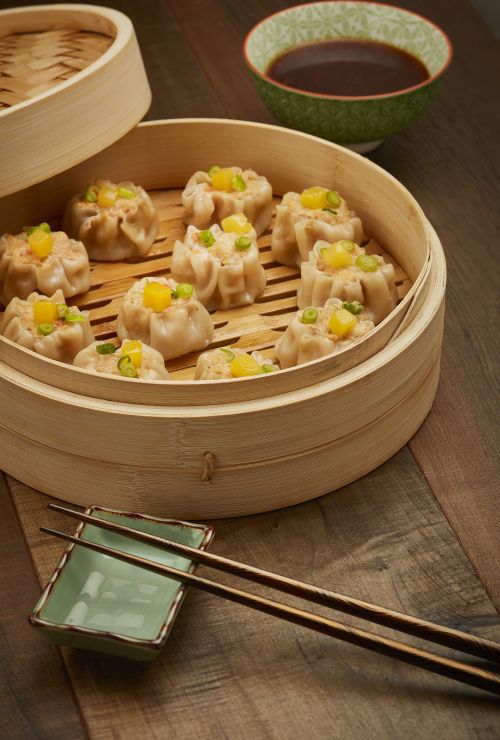 Ingredients
Siu Mai
2 Garlic cloves, rough chopped
2 tablespoons Ginger, fresh peeled and chopped
½ quart Tropical Soy Dipping Sauce, Sub-Recipe
1 piece Lemongrass, chopped
1 pound Shrimp, peeled, cleaned, deveined, raw
1 teaspoon Soy Sauce
1 teaspoon Rice wine vinegar, unseasoned
½ cup DOLE Chef Ready Frozen Mango puree, thawed
1 teaspoon Sesame oil
½ teaspoon Salt, kosher
¼ teaspoon White pepper, ground
40 Wonton wrappers
2 cups DOLE Chef Ready Cut Mango Cubes, thawed
2 tablespoons Green onions, cut into fine sliced rings
Tropical Soy Dipping Sauce
3 tablespoons Mirin
3 teaspoons Ginger minced
1 cup Double Fermented Soy Sauce
1 cup DOLE Canned Sweet and Sour Juice
Directions
Tropical Soy Dipping Sauce
Place all the ingredients into a mixing bowl and whisk together
Allow to marinate for 10 minutes minimum prior to service.
Siu Mai
Place garlic, ginger and lemongrass in a food processor and pulse until finely ground and well combined. Scrape down sides of bowl.
Dice shrimp and place half into the food processor with the remaining ingredients (up till the wonton wrappers). Process until a smooth paste just comes together. Pour filling into a mixing bowl and fold in remaining shrimp.
Place ½ tablespoon of the mixture into the center of a wonton wrapper and wet the edges with a small amount of water.
To assemble, bring all the sides into the center and press any excess wrapper down onto the sides to gently seal (the tops should still be exposed with the shrimp mixture). Flatten the top and place onto a baking sheet. Top each Siu-Mai with a piece of sliced green onion and mango cube. Repeat until all the filling and wrappers have been used."}
Fill base a pot with 2 inches of water. Top with steamer and line steamer with a layer of lettuce leaves or steamer paper and arrange shumai on top, 1 inch apart (this will be done in batches). Cover steamer with lid and place over medium-high heat. Steam shumai for 8 to 10 minutes or until shrimp has just cooked through.
Serve Siu-Mai hot with tropical dipping sauce.