Asian BBQ Jackfruit Steam Buns
(2021 Pairings - Northern California - Americas) - Jackfruit smothered in tangy 5 Spice-peach barbeque sauce stuffed into fluffy open-faced steam buns, with thinly shaved cucumber, pickled onion, spicy mango, and creamy wasabi mayo.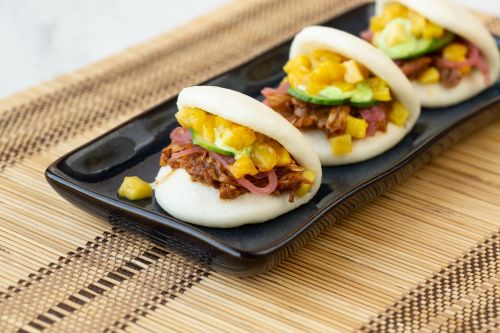 Ingredients
½ cup hoisin sauce
3 Tablespoons rice vinegar
2 Tablespoons fish sauce
2 Tablespoons tamari sauce
⅓ cup DOLE Chef-Ready Peach Frozen Puree thawed
⅓ cup shallots minced
2 Tablespoons minced garlic
2 Tablespoons minced ginger
2 teaspoons Chinese five-spice seasoning
½ cup red wine vinegar
3 teaspoons salt divided
1 Tablespoons Szechuan peppercorns whole
2 cups thinly sliced red onion
1-½ cups DOLE Chef-Ready Cuts Mango Cubes thawed drained
2 Tablespoons chili powder
30 each bao buns pre-made
3.75 lbs. green jackfruit in water rinsed pulled
1-½ cups Asian BBQ sauce sub-recipe
1 cup Persian cucumber sliced
1-½ cups pickled red onion sub-recipe
1-½ cups spicy mango sub-recipe
20 oz. wasabi mayo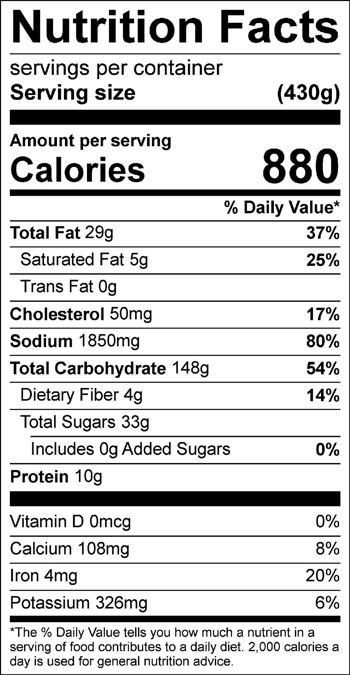 Directions
To Prepare Asian BBQ Sauce:

1. In a blender, combine hoisin sauce, rice vinegar, fish sauce, tamari sauce, peach puree, shallots, garlic, ginger, and Chinese five-spice and pulse to emulsify.

2. Transfer sauce to a small pot and simmer over a medium heat for 5 minutes to allow flavors to intensify.

3. Set aside for jackfruit application.

To Prepare Pickled Red Onions:

1. In a small sauce pot, over a high heat, bring the red wine vinegar, 2 teaspoons salt and peppercorns to a boil.

2. Add the onions to the mixture and turn off the heat.

3. Allow the onions to sit for 10 minutes, then place ½ cup of ice into pot to cease cooking and complete quick pickle.

To Prepare Spicy Mango:

1. In mixing bowl, toss the mango with chili powder and 1 teaspoon salt.

To prepare BBQ Jackfruit Steam Buns:

1. Fill a pot halfway, which will accommodate a bamboo steamer, or steamer set up and bring the water to a boil.

2. Place bao buns into the steamer and cook per package instructions.

3. While bao are cooking, place a large sauté pan over a medium to high heat and sauté the jackfruit with the Asian BBQ sauce to heat the jackfruit and allow it to absorb as much flavor as possible.

4. When bao buns are ready, open and serve with jackfruit, cucumbers, pickled red onions, spicy mango and 2 oz. of wasabi mayo per bun.

To Serve:

1. Place 3 bao buns on a plate. Enjoy while hot.