White Balsamic Mango Aperol Spritz
(Europe 2020 Pairings) An ice-cold beverage that offers the perfect balance of sweetness with a pleasantly bitter finish.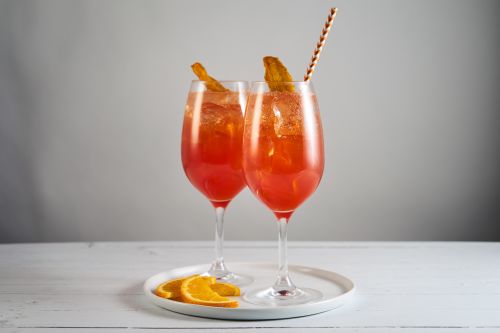 Ingredients
3 each frozen DOLE Mango Halves partially thawed
20 fl ounces Aperol
10 fl ounces DOLE Chef-Ready Mango Frozen Puree thawed
10 teaspoons white balsamic reduction prepared
30 fl ounces prosecco
10 fl ounces club soda
5 cups frozen DOLE Mango Chunks
5 cups ice cubes
10 each dehydrated mango slice sub-recipe
Directions
To Prepare Dehydrated Mango:

1. Slice mango halves into 1/4" thick slices. Place slices on a sheet tray fitted with a cooling rack.

2. Place sheet tray onto an oven set to 175ºF for 3-4 hours or until mango slices are dry but slightly flexible. Remove from tray.

3. Store in a cool, dry place.

To Prepare White Balsamic Mango Aperol Spritz:

1. Shake Aperol with mango purée and white balsamic reduction.

2. Distribute across 10 glasses and top each with 3 fl oz of prosecco and 1 fl oz of club soda.

3. Finish each drink with ½ cup of frozen mango chunks, ½ cups of ice and a dehydrated mango slice.