Salted Caramel Pineapple Churros
(Europe 2020 Pairings) Crispy fried churros topped with a tangy pineapple curd, a decadent caramel sauce and finished with toasted almonds, powdered sugar and a pinch of maldon salt.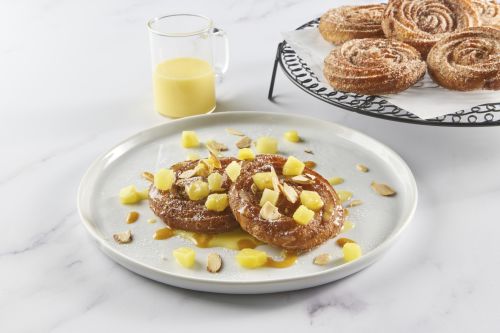 Ingredients
4 each whole eggs divided
2 each egg yolks
½ cup DOLE Canned Pineapple Juice
5/8 cup granulated sugar divided
1 Tablespoon cornstarch
8 Tablespoons unsalted butter divided
1 cup water
1 teaspoon vanilla extract
1 teaspoon kosher salt
1 cup all-purpose flour
1 cup Cinnamon Sugar
10 each churro sub-recipe
1-¼ cups pineapple curd sub-recipe
¾ cup prepared caramel sauce
1-¼ cups DOLE Chef-Ready Cuts Pineapple Cubes thawed
½ cup sliced almonds toasted
3 Tablespoons powdered sugar
1 Tablespoon smoked Maldon salt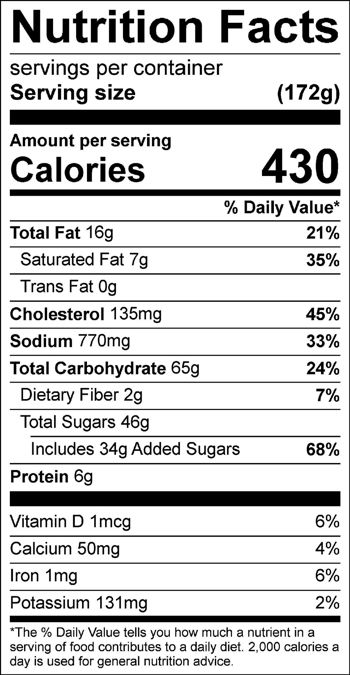 Directions
To Prepare Pineapple Curd:

1. Add 2 whole eggs, egg yolks, pineapple juice, 1/2 cup granulated sugar and cornstarch in a large bowl. Whisk together until well combined and cornstarch is fully dissolved.

2. Pour mixture into a medium saucepan and cook over medium-low heat, stirring constantly with a wooden spoon, until thickened; about 7-10 minutes, or until curd coats back of spoon.

3. When the curd has thickened, immediately remove it from the heat and stir in 2 Tbsp butter.

4. Strain the curd through a fine-mesh sieve to remove any bits of scrambled egg and transfer to a large bowl.

5. Once cooled, cover the surface of the curd with plastic wrap to prevent skin from forming.

6. Reserve.

To Prepare Churros:

1. Combine water, 6 Tbsp butter and 2 Tbsp granulated sugar in a sauce pot and bring to a simmer over medium heat.

2. While stirring, add vanilla extract, kosher salt and all-purpose flour.

3. Continue stirring vigorously as mixture tightens up, continue cooking.

4. Add 2 eggs one at a time, stirring until incorporated.

5. Continue cooking mixture over medium heat until the dough begins to smell nutty and a slight film develops on the pot, about 3-4 minutes. Remove from heat and allow to cool.

6. Once cool enough to handle, transfer batter to piping bag with star tip and allow to cool completely.

7. Pipe the batter into 3" round forms and freeze until set.

8. Fry rounds at 350

°

F for 5 minutes or until deep golden brown. Drain off excess oil and sprinkle with cinnamon sugar.

To Serve:

1. Top fried churro with 2 tablespoons of pineapple curd, 1 tablespoon of caramel sauce and 2 tablespoons of pineapple cubes.

2. Add toasted almonds and dust with powdered sugar.

3. Finish each churro with a pinch of smoked Maldon salt.