Crispy Eggplant Pita Sandwich
(Mediterranean 2020 Pairings) (Sabich) A savory, vegetarian pita sandwich filled with crispy eggplant and a fresh cherry tomato salad, drizzled with a mango tahini sauce.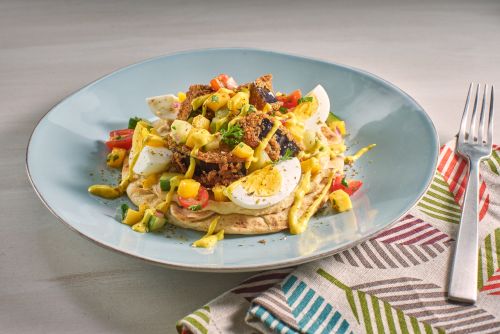 Ingredients
2-¾ cups DOLE Chef-Ready Cuts Mango Cubes thawed divided
¼ teaspoon ground turmeric
¼ Tablespoon tahini paste
½ cup lukewarm water
1 Tablespoon honey
4 teaspoons fresh lemon juice divided
1-½ cups quartered cherry tomatoes
1 cup diced English cucumber
½ cup red onion diced
¼ cup chopped fresh parsley
1 teaspoon kosher salt
2 Tablespoons extra-virgin olive oil
20 Teaspoons za atar spice divided
2 cups panko bread crumbs
10 1/4" slices Italian eggplant sliced quartered
½ cup all-purpose flour
4 each whole egg beaten
as needed vegetable oil for frying
10 8" rounds pita bread grilled
2-½ cups prepared hummus
40 each fried eggplant sub-recipe
10 each hard-boiled egg quartered
2-½ cups cherry tomato salad sub-recipe
1-¼ cups mango tahini sub-recipe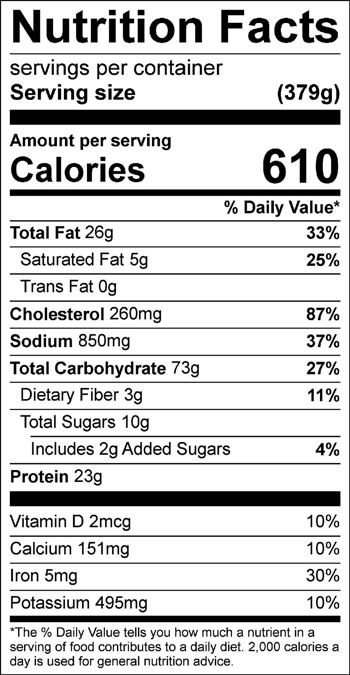 Directions
To Prepare Mango Tahini:

1. Add 1-3/4 cups mango cubes, ground turmeric, tahini paste, water, honey and 1 tsp lemon juice into a blender and process until smooth.

2. Store covered in refrigerator until ready to use.

To Prepare Cherry Tomato Salad:

1. Add cherry tomatoes, English cucumber, red onion, 1 cup mango cubes, parsley, kosher salt, 1 Tbsp lemon juice and extra virgin olive oil into a mixing bowl and toss until well combined.

2. Store covered in refrigerator until ready to use.

To Prepare Fried Eggplant:

1. Preheat deep fryer to 350°F.

2. Mix 5 Tbsp za'atar spice and panko breadcrumbs in a bowl until well combined. In a separate bowl or plate, place all-purpose flour for dredging.

3. Dredge eggplant pieces in flour evenly coating both sides.

4. Dip coated eggplant pieces in egg wash and then coat evenly with seasoned panko breadcrumbs.

5. Deep fry in 350ºF oil for 3 minutes or until golden brown and crispy.

6. Allow to drain on a wire rack and reserve.

To Serve:

1. To prepare one sandwich, spread pita with ¼ cup of hummus and shingle four pieces of fried eggplant on top.

2. Place one hard-boiled egg around fried eggplant and top with a ¼ cup of tomato salad.

3. Drizzle 2 tablespoons of mango tahini on top.