Cuban Pork Sandwich
2020 Passport to Flavor recipe - Americas (Pan con Lechon) - A fresh take on a traditional Cuban sandwich filled with asado pork, spicy pickled pineapple and mango mojo sauce atop a French baguette that has been toasted to perfection.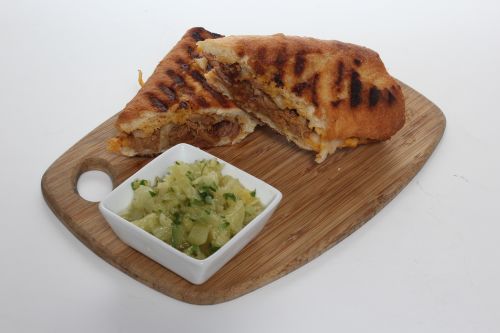 Ingredients
7 cups DOLE Chef-Ready Cuts Pineapple Cubes thawed divided
1-½ cups rice wine vinegar
¼ cup granulated sugar
¾ cup jalapeno sliced divided
1-½ Tablespoons kosher salt divided
6 Tablespoons lime juice divided
¼ cup Chopped fresh cilantro
2 Tablespoons olive oil
28 peeled garlic cloves divided
¼ teaspoon dried oregano
¼ teaspoon ground cumin
¼ cup tomato sauce
2 cups DOLE Chef-Ready Mango Frozen Puree thawed
¼ teaspoon ground cayenne pepper
1 cup DOLE Chef-Ready Cuts Mango Cubes thawed
1-¼ cups pineapple mango mojo sauce sub-recipe
1-¼ cups DOLE Pineapple Juice
2.8 pounds boneless pork shoulder
10 6" small baguette loaf sliced diagonally
1-¼ cups salted butter melted
15 cups asado pork sub-recipe
1-¼ cups white onion julienned
5 cups Pineapple Mango Mojo Sauce sub-recipe divided
5 cups spicy pickled pineapple sub-recipe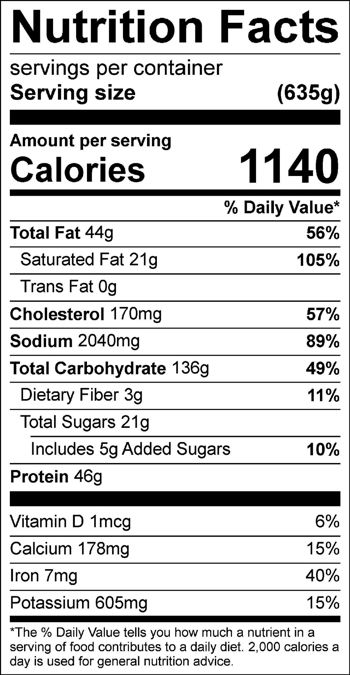 Directions
To Prepare Spicy Pickled Pineapple:

1. Thaw and drain 4 cups pineapple cubes. Set aside.

2. Place the rice wine vinegar, granulated sugar, 1/4 cup jalapeno, 1/2 Tablespoon kosher salt and 1/4 cup lime juice in a small sauce pot. Bring to a simmer, stirring until sugar dissolves.

3. Remove from heat and let cool to room temperature.

4. Place the 4 cups drained pineapple and cilantro into a large container.

5. Pour the vinegar mixture over the pineapple, making sure to cover it completely.

6. Cover tightly and refrigerate for at least 24 hours.

7. Can be stored for up to 2 weeks.

To Prepare Pineapple Mango Mojo Sauce:

1. In a medium saucepot, heat olive oil over medium heat.

2. Add 24 minced garlic cloves and 1/2 cup small diced jalapeno and cook until fragrant, about 2 minutes.

3. Add oregano, cumin and 1 Tablespoon kosher salt. Cook an additional minute.

4. Add tomato sauce and cook until it reduces by half.

5. Add mango purée and 2 cups of pineapple cubes, 2 Tablespoons lime juice and cayenne.

6. Cook until heated through and the fruit becomes soft, about 10 minutes, stirring occasionally.

7. Transfer mixture to blender. Blend on high speed until the mixture is smooth.

8. Cool completely. Fold in the remaining 1 cup each of pineapple and mango cubes and reserve.

To Prepare Asado Pork:

1. Combine 1-1/4 cups mojo sauce and pineapple juice in a medium-sized bowl. Whisk together until completely combined.

2. With a sharp paring knife, score the pork shoulder all over. Pierce the pork 5-6 times, going about 1" deep with the tip of the knife.

3. Place pork in plastic bag, then pour the mojo - pineapple juice mixture and 4 crushed garlic cloves over the pork. Press all the air out of the bag and seal. Refrigerate for at least 4 hours.

4. In a slow cooker, pour in the pork and marinade. Cook on low for about 8 hours, or until the pork pulls apart easily.

5. Shred the pork with 2 forks, keeping large chunks, and mix completely with marinade.

6. Reserve for service.

To Prepare Cuban Pork Sandwich:

1. Slice bread loaves in half.

2. Brush butter on top and bottom of bread coating edge to edge.

3. On the bottom heel of sandwich, layer 1-1/2 cups shredded asado pork onto the bread and cover with 1-1/2 Tbsp of julienned onions.

4. Drizzle 1/4 cup of pineapple mango mojo sauce over pork and onions, and top with the bread crown. Press sandwich on a panini press until bread is toasted and grill marks appear, then slice in half diagonally.

To Serve:

1. Transfer pressed sandwich to serving dish.

2. Plate sandwich with 1/2 cup spicy pickled pineapples and remaining mojo sauce on the side.