Mango Turmeric Bali Bowl
A mango smoothie bowl blended with coconut lassi, turmeric and pineapple juice. Topped with sliced strawberry, mango, goji berry, toasted coconut and mint.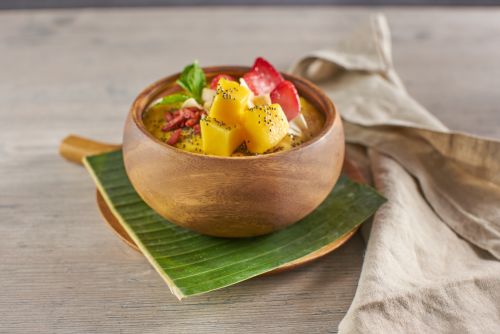 Ingredients
5 cups DOLE Chef-Ready Mango Frozen Puree thawed
5 cups DOLE Pineapple Juice
5 cups Coconut Lassi recipe below
5 Tablespoons ground turmeric
10 cups DOLE Chef-Ready Cuts Mango Cubes
2-½ cups ice
2-½ cups DOLE Chef-Ready Cuts Sliced Strawberries thawed
2-½ cups frozen DOLE Mango Chunks thawed
⅔ cup dried goji berries
½ cup chia seeds
3-⅓ cups toasted coconut chips dried
10 mint sprigs
2-¾ cups coconut milk from young coconut
2-¼ cups unsweetened plain yogurt full fat
2 tablespoons honey
2 tablespoons lime juice
Directions
Coconut Lassi directions:

1. Add coconut milk, yogurt, honey, and lime juice to blender then mix for 1 minute until smooth.

2. Chill before using.

Mango Turmeric Bali Bowl directions:

1. Add Mango Purée, Pineapple Juice, coconut lassi, turmeric, Mango Cubes and ice to a blender and blend for 3-5 minutes until smooth.

To Serve:

1. Pour 2-1/4 cups of fruit puree mixture into a bowl and garnish with 1/4 cup of Sliced Strawberries, 1/4 cup of Mango Chunks, 1 Tablespoon of goji berries, 2 teaspoons of chia seeds, 2 Tablespoons of toasted coconut and finish with a sprig of mint.