Bacon Egg and Cheese Breakfast Burrito with Mango Salsa
A classic breakfast burrito, kicked up a notch with a sweet and spicy mango salsa.   K-12 Crediting: 1.5 oz. equivalent grain, 1/4 cup fruit, 0.5 oz. meat / meat alternative, 1/4 cup vegetable.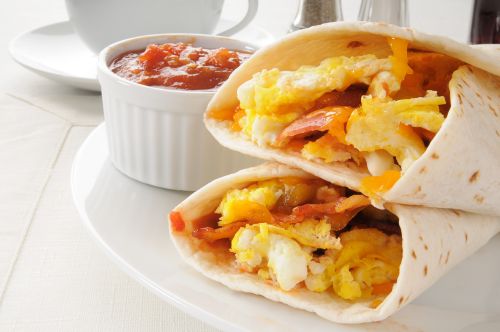 Ingredients
2-½ cup prepared salsa
2-½ cups DOLE Chef-Ready Cuts Mango Cubes thawed drained
20 strips bacon slices
20 eggs
2-½ cups shredded Cheddar cheese
10 warmed whole-wheat tortillas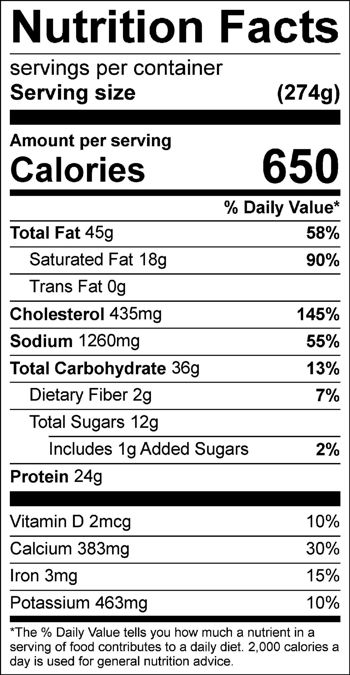 Directions
Place pre-made tomato-based salsa and thawed mango cubes together into a bowl. Stir mango cubes and salsa together gently until the fruit is evenly distributed into the salsa mixture.
Set aside and chill until use.

Preheat oven to 400°F and cook bacon for approximately 15-18 minutes on a large baking sheet. Set aside to cool.

In a large bowl, whisk eggs. Once eggs are fully mixed, stir in 1 cup cheese.

Cook and stir over medium heat until eggs are completely set.

Spoon about 1/2 cup egg mixture on each tortilla; top with 2 slices bacon and sprinkle with remaining cheese.

Fold bottom and sides of tortilla over filling. Serve immediately with mango salsa.