Roasted Poblano and Pea Soup with Mango Creme Fraiche
(2018 Pairings Recipe) A spicy soup accented with mango creme fraiche.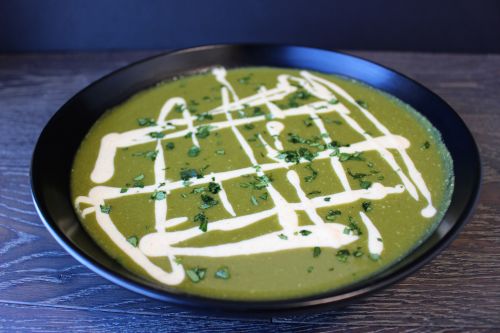 Ingredients
3 poblano peppers
vegetable oil
kosher salt to taste
½ white onion small diced
2 garlic cloves minced
4 cups vegetable stock
½ teaspoon whole cumin seeds
¼ bunch cilantro stems
1 teaspoon whole black peppercorn
1 medium Dried guajillo pepper soaked and chopped into chunks
6 ounces frozen sweet peas
1 cup Creme Fraiche
2 teaspoons lime juice
½ cup DOLE Chef-Ready Frozen Mango Puree thawed
½ teaspoon chili powder
chopped fresh cilantro for garnish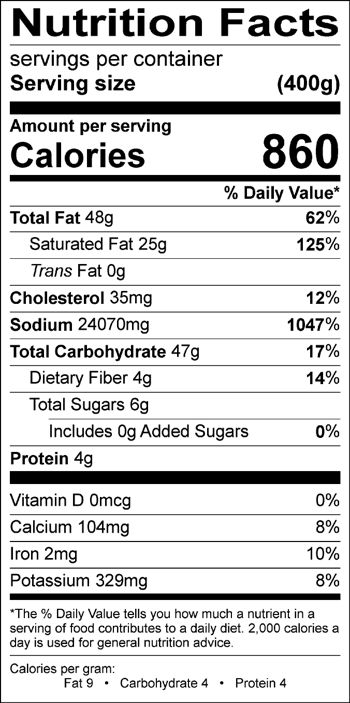 Directions
Preheat oven to 475°F. Toss poblano peppers with enough oil to coat and sprinkle with kosher salt. Allow to roast on a sheet tray lined with aluminum foil, in oven until skin is blackened on all sides. When peppers are fully blackened on all sides, remove from oven and place in a bowl and cover to allow peppers to cool and steam themselves to loosen the skin. When peppers have cooled, remove all charred skin, remove seeds from inside, and dice into 1/2- inch squares. 

Heat a stock pot over medium-low heat, when the pot is fully pre-heated add just enough oil to cover the bottom of the pot. Add the onion and 1 teaspoon of salt to the pot and allow to cook until translucent and tender, stirring regularly. If onions begin to develop color, turn down heat and allow to continue cooking over low until tender. Add garlic to the pot over low, making sure to stir regularly to prevent garlic from scorching or burning. Cook garlic until soft, but do not allow garlic to develop any color. Next add the stock and the roasted poblano peppers, allow to simmer over medium-low heat for about 5 minutes.

Prepare a sachet for the spices while soup is simmering. In a large square of cheesecloth place the cumin seed, cilantro stems, black peppercorns, and soaked guajillo pepper chunks and pull the cheesecloth tightly around them to form a tight bundle and tie tightly with butcher's twine. Add sachet to soup and allow to infuse for 10 minutes, tasting stock periodically to test infusion of flavor, leave sachet in soup longer if more spice is preferred. 

Add the frozen peas to the soup and allow to simmer for 3-5 minutes until peas are just tender. When peas are tender, and soup is at desired flavor remove sachet and reserve. Add soup to the vessel of a blender and puree until very smooth. Taste soup and season with salt accordingly, place soup back into a pot and add sachet back to soup and allow to infuse until desired flavor profile is reached. 

Prepare the crème fraiche while soup is finishing. In a bowl, mix together crème fraiche, lime juice, mango puree, and chili powder. Season with salt according to taste.
To plate and finish, add soup to bowl, top with mango crème fraiche and chopped cilantro, serve warm.