Sorghum Fried Chicken Sandwich with Cherry Slaw
(2018 Pairings Recipe) A fruity twist on traditional fried chicken sandwiches.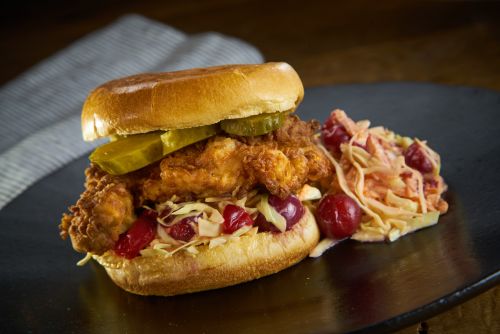 Ingredients
2 cups all-purpose flour
2 teaspoons cayenne pepper
2 teaspoons smoked paprika
2 tablespoons plus 2 teaspoons kosher salt divided
¼ cup sorghum molasses
2 cups buttermilk whole fat
4 (5 oz.) boneless skinless chicken thighs
for frying vegetable oil
½ cup mayonnaise
¼ cup sour cream
2 tablespoons DOLE Pineapple Juice
1 tablespoon apple cider vinegar
1 tablespoon hot sauce
4 cups cole slaw cabbage mix
1-½ cups frozen DOLE Red Tart Cherries thawed roughly chopped
4 brioche burger buns toasted
12 dill pickle chips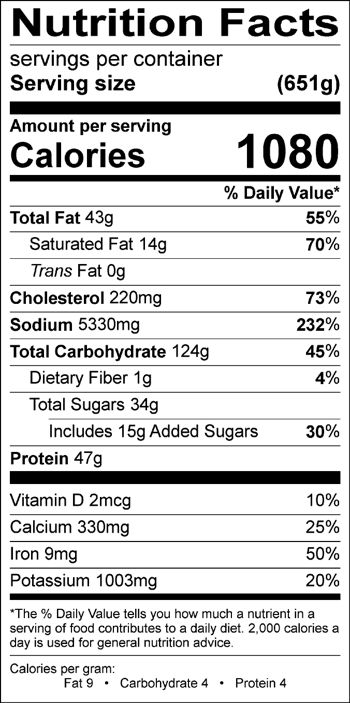 Directions
Begin heating 1/4 inch of frying oil to 350°F in a large straight sided sauté pan.
Prepare dry mix by combining flour, cayenne, paprika, and 2 tablespoons salt 

in a large mixing bowl. 

Prepare wet dredge by whisking together sorghum molasses and buttermilk in large mixing bowl.
Dry chicken thighs with paper towels. Drag chicken thighs through dry mix, coating thoroughly.
Transfer dredged thighs to buttermilk mix and submerge completely.
Repeat dry dredge step, coating completely and gently shaking off any excess flour.

Lay dredged thighs away from you into hot oil, frying each side of the thigh for 5-6 minutes or until golden brown and an internal temperature of 165°F has been achieved.  

Combine mayonnaise, sour cream, pineapple juice, vinegar, hot sauce, and remaining 2 teaspoons salt in a small mixing bowl, whisking together until smooth.

Add slaw mix and cherries to bowl and fold together until evenly coated.

Halve and toast all four brioche buns until golden brown and crispy. On the bottom half of each bun, place three pickles. Add a fried chicken thigh to each sandwich and top with 1/2 cup of cherry slaw. Place the toast bun tops on each sandwich.
Explore DOLE Products in This Recipe