Peachy White Bean and Blueberry Salsa Nacho Bowl
(2017 Pairings) A colorful and zesty nacho bowl.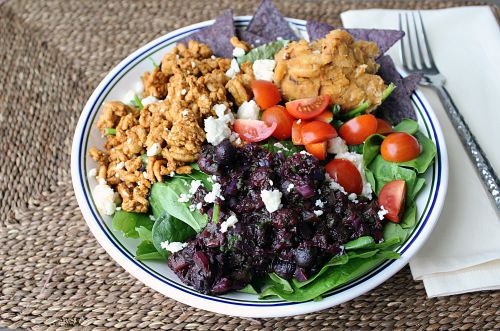 Ingredients
1 can (15 oz.) cannellini beans rinsed and drained
2 tablespoons extra virgin olive oil divided
1 shallot minced
½ teaspoon crushed red pepper flakes
½ teaspoon cayenne pepper
2 teaspoons brown sugar
½ cup DOLE Chef-Ready Frozen Peach Puree
½ lb. ground turkey
1 tablespoon ground black pepper
2 tablespoons kosher salt
1-½ tablespoons smoked paprika
2 tablespoons chili powder
2 tablespoons curry powder
3 tablespoons Worcestershire sauce
1-2 tablespoons sriracha sauce
1 cup frozen DOLE Blueberries partially thawed
½ small red onion diced
⅓ cup fresh cilantro chopped
1 jalapeno pepper minced
½ green bell pepper finely diced
½ cup tomato-based salsa
salt and pepper to taste
3 cups salad greens
1 cup blue corn chips or corn tortilla chips
1 cup cherry tomatoes halved
½ cup queso fresco crumbled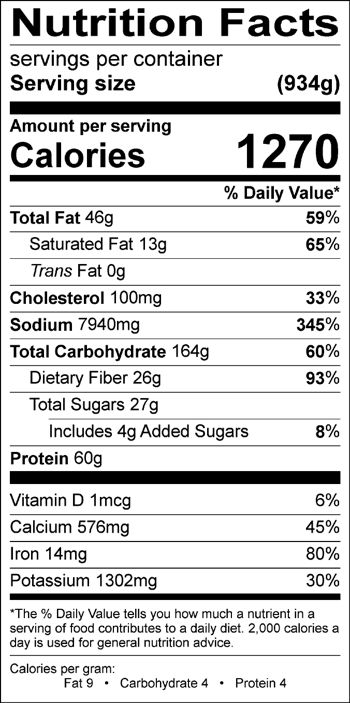 Directions
Mash beans in a medium bowl.
Heat 1 tablespoon olive oil in a small skillet over medium heat. Add shallots and sautee until translucent.
Add red pepper flakes, cayenne, and brown sugar. Cook for 30 seconds to slightly melt the sugar.
Add the beans and peach puree.  Mix well to incorporate, cook for 2 minutes to allow the beans to brown slightly. Season with salt to taste. Remove from pan and set aside.
Heat remaining 1 tablespoon olive oil to medium skillet over a medium high heat. Add turkey and brown the meat. Add pepper, 2 tablespoons salt, smoked paprika, chili powder, and curry powder to meat. Stir well to coat and cook for 2 minutes.
Add Worcestershire sauce and sririacha and cook for another 3 minutes. Set aside to cool slightly.
Combine blueberries, red onion, cilantro, jalapeno, bell pepper, and salsa in a bowl. Mix well to incorporate. Season with salt and pepper.
Divide salad greens, tortilla chips, refried beans, turkey, salsa, tomatoes, and cheese between two bowls.