Apple Citrus Pork Chops
A light refreshing citrus sauce, served with pork chops, apples and fennel.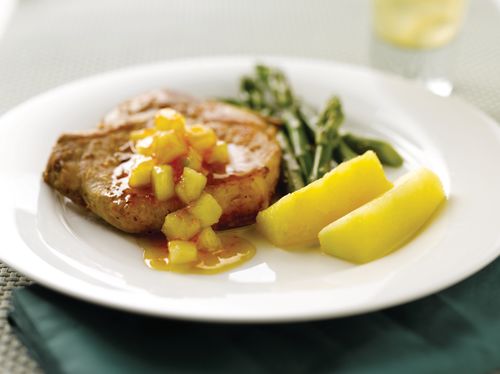 Ingredients
8 oz. (1 cup) white balsamic vinegar
4 oz. (⅓ cup) honey
2 Tbsp grated orange peel
24 oz. (4 cups) fresh orange juice
24 oz. (4 cups) DOLE Chef-Ready Cuts Diced Apples
7.5 lb. 12 (3/4-inch thick) pork chops
as needed fennel seed crushed
as needed garlic salt
as needed ground black pepper
as needed canola oil
Directions
Combine vinegar, honey, orange peel, and 1/2 cup orange juice in large skillet. Bring to a boil; reduce heat and simmer until reduced by half. Add apples, stirring to blend. Remove from heat.


Lightly sprinkle pork chops with fennel, garlic salt and pepper.


Heat oil in skillet, sauté pork chops, turning once. Cook about 3-4 minutes per side. During last 2 minutes of cooking add 2 tablespoons orange juice to glaze each pork chop, turning over to coat.


Serve one chop per portion, topping with 1/4 cup apple mixture.

Explore DOLE Products in This Recipe