Almond Crusted Salmon Fillet with Strawberries
A seared salmon fillet, served with a wine-butter sauce, toasted almonds and topped with strawberries.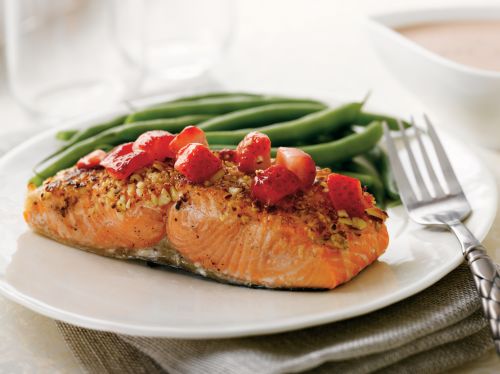 Ingredients
½ cup merlot or other dry red wine
½ cup red wine vinegar
½ cup shallots minced
2 Tablespoons heavy cream
1 cup butter cut into small pieces
salt and ground black pepper to taste
1-⅓ cups DOLE Chef-Ready Cuts Diced Strawberries
8 oz. slivered almonds coarsely chopped
10 (6 oz.) salmon fillets with skin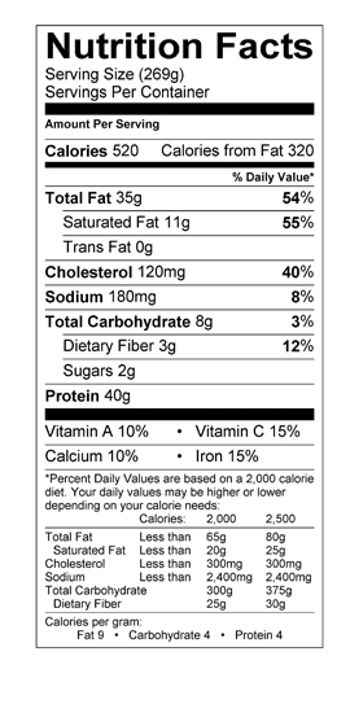 Directions
Preheat oven to 350°F.
Heat wine, vinegar and shallots in medium saucepan to boiling. Reduce heat; continue simmering 15 to 20 minutes or until liquid has reduced down to 1/4 cup. Stir in cream. Reduce temperature to low and start adding butter cubes, one or two at a time, whisking rapidly with a wire whisk.

As butter melts and incorporates, add more butter and keep whisking. When finished the sauce should be thick and smooth. Salt and pepper, to taste. Add 2/3 cup strawberries just before serving over fish.


Spread almonds in shallow dish. Season salmon with salt and pepper. Press fillets into almonds on flesh-side of fish only; almonds will stick to fish. In batches place salmon, nut-side down, into skillet with oil as needed; over medium heat, cook until almonds are lightly browned.

Place fillets, nut-side up, on large baking sheet sprayed with nonstick cooking spray. Bake 5 to 7 minutes or until desired doneness.




Serve wine-butter sauce over salmon and sprinkle with remaining 2/3 cup diced strawberries.



Explore DOLE Products in This Recipe