Pineapple Stuffed Pineapple Bun
Traditional Hong Kong style pineapple bun, bolo bao, is served stuffed with pineapple custard cream.
Allergens: Dairy (Butter, Heavy Cream, Milk), Eggs, Gluten (Cake Flour, Bread Flour, All-Purpose Flour)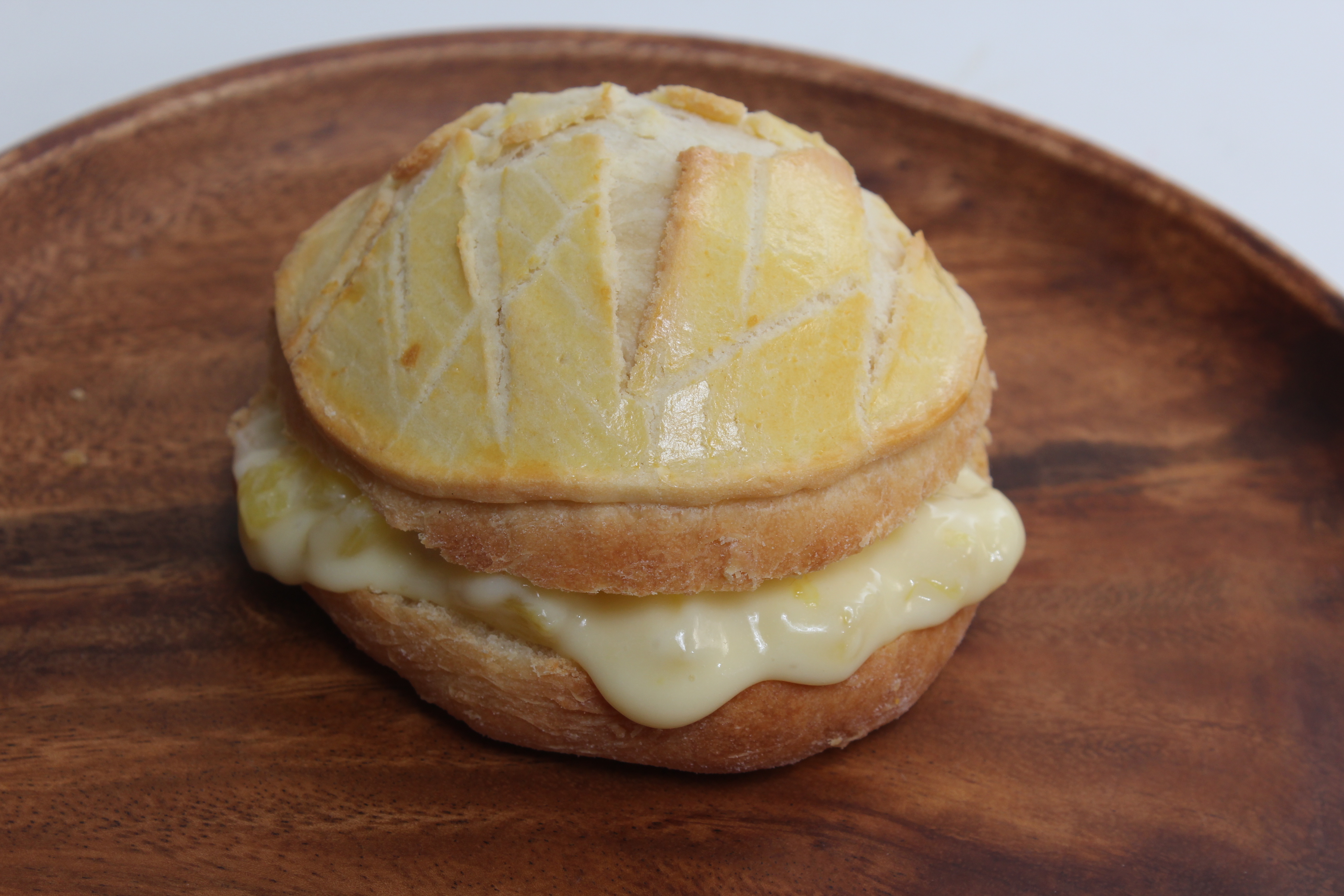 ---
SUGAR DOUGH ROLL INGREDIENTS:
| ¼ cup | Butter, melted |
| --- | --- |
| ½ cup | Powdered sugar |
| 1¼ cups | Cake flour |
| 1 each | Egg |
| 1 each | Egg yolk |
PINEAPPLE BUN INGREDIENTS:
| 3½ cups | Bread flour |
| --- | --- |
| ⅔ cup | Heavy cream |
| 1 cup | Milk |
| ⅓ cup | Sugar |
| 1 Tablespoon | Yeast |
| ½ cup | Cake flour |
| 1½ teaspoon | Salt |
| 1 each | Egg, for egg wash |
| 1 each | Sugar Dough Roll, sub-recipe |
CUSTARD CREAM INGREDIENTS:
| 3 cups | Whole milk |
| --- | --- |
| ½ cup | Sugar |
| ¼ teaspoon | Salt |
| 2 teaspoons | Vanilla |
| ¼ cup | Cornstarch |
| 1 Tablespoon | All-Purpose flour |
| 4 each | Egg yolk |
| ¼ cup | Butter |
| 1¼ cups | DOLE Chef-Ready Cuts Pineapple Cubes, thawed (for garnish) |
SUGAR DOUGH ROLL DIRECTIONS:
In a large bowl, blend butter and powdered sugar until fully incorporated.
Add in remaining ingredients until a dough is formed; allow dough to rest in refrigerator for 10-15 minutes. Allows for easier handling.
On a dusted surface, roll out the dough thin and cut into 12 rounds, large enough to drape over top of each bun. Roughly 4" diameter Set aside.
PINEAPPLE BUN DIRECTIONS:
Preheat oven to 350° F.
Place bread flour in stand mixer with hook attachment.
In a sauce pan, combine heavy cream and milk heating to 100° F. Remove from heat.
Add yeast and sugar to milk and heavy cream; mix until fully incorporated. Let stand 5 minutes allowing mixture to become foamy.
On low speed, using a dough hook, add dairy mixture to stand mixer and knead dough; slowly add cake flour and salt until dough is smooth, elastic and soft.
Place dough in a bowl wrapped in plastic wrap and allow to rise in a warm place until dough has doubled in size; about 2 hours.
Portion bread dough into 10 equal portions (3.3 oz each); allow to rest covered for 30 minutes.
In a small bowl whisk egg and equal parts water for wash.
Place bread dough portions onto sheet pan lined with parchment paper. Brush each bun with egg wash and drape sugar dough rounds across top of buns.
Place buns into oven for 10 minutes or until buns are golden brown.
Set aside and allow to cool.
CUSTARD CREAM DIRECTIONS:
In a medium sauce pan over medium-high heat, pour 2½ cups milk, sugar, salt and vanilla. Bring mixture to a simmer and then remove from heat.
In a separate bowl, whisk together cornstarch, flour, egg yolks, and remaining ½ cup milk.
In 1/2-cup increments, add in the warm milk mixture into the eggs mixture, whisking rapidly, to bring the temperature of the eggs up gradually.
Transfer mixture back to cooking pot and warm over medium-high heat, stirring until liquid thickens to create pastry cream.
Once thickened, remove from heat and pour into clean dry bowl.
Whisk in butter and place bowl in ice bath, stirring until mixture becomes room temperature.
Place plastic wrap directly on the top of pastry cream in order to keep film from forming.
Store in refrigerator until ready for use.
TO SERVE:
Slice pineapple bun in half horizontally.
Fill bun with ⅓ cup of the pineapple custard cream, and top with 2 Tablespoons of pineapple cubes. Top with crown and serve immediately.