Peach Injera Cake
Fermented sourdough cake topped with juicy diced peaches and a decadent peach honey drizzle.
Allergens: Nuts (cashew), Gluten (flour)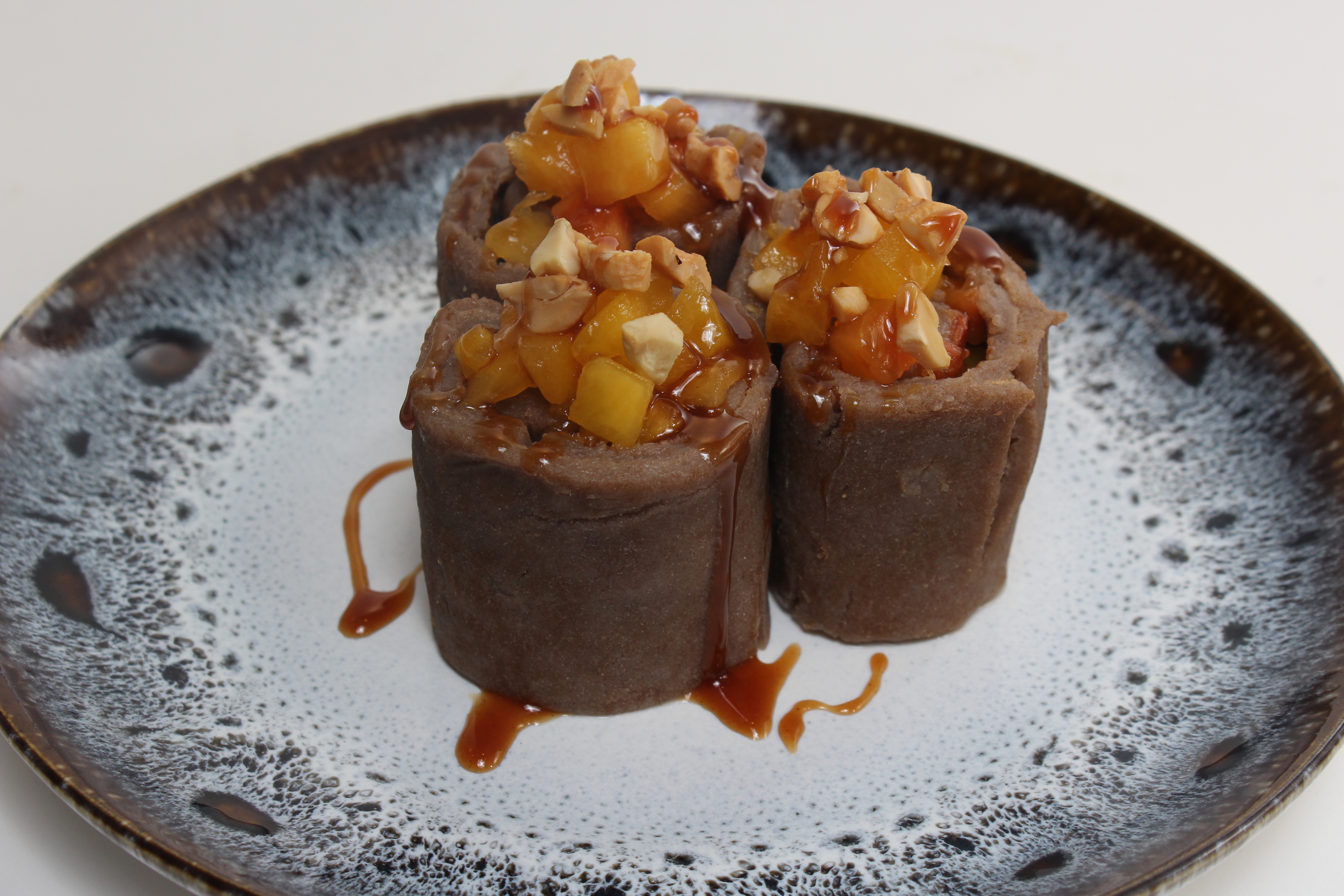 ---
FINAL BUILD INGREDIENTS:
| 10 each | Injera, sub-recipe |
| --- | --- |
| 2 cups | Peach Honey, sub-recipe |
| ¾ cup | Fermented honey, for garnish |
| ¾ cup | Cashews, toasted, chopped, for garnish |
INJERA CAKE INGREDIENTS:
| 1 cup | Teff flour |
| --- | --- |
| 3 cups | All-purpose flour |
| 5 cups | Water |
| 1 teaspoon | Salt, kosher |
PEACH HONEY INGREDIENTS:
| 2 cups | DOLE® Chef-Ready Cuts Diced Peaches, thawed |
| --- | --- |
| ½ cup | Honey |
INJERA CAKE DIRECTIONS:
In large bowl, whisk both flours until well combined.
Dissolve salt in water and slowly pour into flour mixture; whisk until well combined and there are no lumps.
Cover bowl with plastic wrap and allow to sit in warm place for 12-24 hours, or until batter smells slightly sour.
Heat a 10" non-stick skillet over medium-high heat and liberally spray with non-stick cooking spray.
Pour ¾ cup batter into pan and spread evenly over surface. Turning the pan to completely cover every corner.
Cook until the top is dry, and bottom has a bubble pattern to it, about 1-2 minutes.
Flip onto plate and repeat process until all batter is used. Cover with plastic wrap to keep from drying out.
PEACH HONEY DIRECTIONS:
In medium bowl, combine all ingredients; mixing until well blended.
Cover and reserve.
TO SERVE:
Stack Injera onto work surface and evenly spread peach honey layer on top.
Roll Injera as tightly as possible into a cylinder; cut into 3" rolls.
On each serving plate, place three mini rolls, flat ends up.
Top each with additional peach honey and chopped cashews.
Garnish with drizzle of fermented honey. Serve immediately.