BALANCE THE "LIGHTER SIDE" WITH
SWEET INDULGENCE
These recipes featuring DOLE fruit range from light and refreshing to warm and comforting. What they all have in common is the inclusion of more wholesome ingredients, for dessert options that meet a range of patron needs.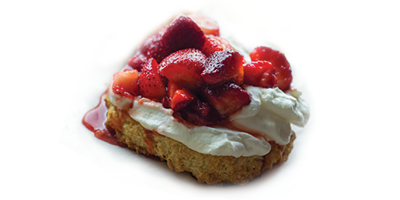 STRAWBERRY SHORTCAKE
Our quick and easy recipe for a classic features DOLE Chef-Ready Cuts Sliced Strawberries, orange marmalade and whipped cream served over warm, fluffy biscuits.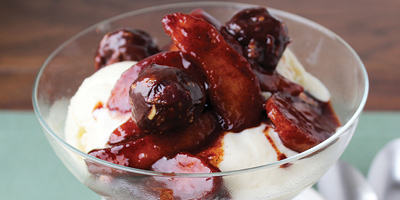 APPLE AND FROZEN YOGURT SUNDAE BOWL
Put a healthful spin on decadent sundaes by swapping high-fat ice cream with vanilla frozen yogurt and topping the bowl with cinnamon-dusted caramelized Frozen DOLE Sliced Apples and homemade fudge clusters filled with Frozen DOLE Dark Sweet Cherries.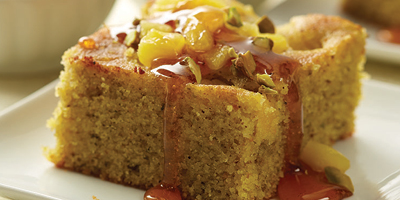 PINEAPPLE PISTACHIO SEMOLINA CAKE
This better-for-you semolina cake skips the frosting but keeps the sweetness with juicy DOLE ChefReady Cuts Pineapple Cubes, roasted pistachios and a tropical cinnamon-pineapple syrup made with DOLE Pineapple Juice.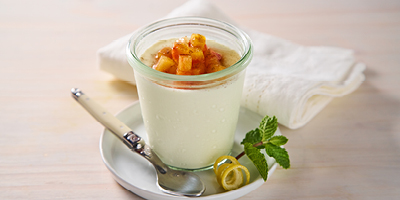 VANILLA PANNA COTTA WITH CARDAMOM PEACH SAUCE
DOLE Chef-Ready Cuts Diced Peaches and cardamom make for a uniquely spiced sauce, perfect for topping a creamy panna cotta