Kofta Bozbash
A large lamb meatball filled with dark sweet cherries and red tart cherries cooked in a saffron bone broth with potatoes, onions, chickpeas, and dry herb blend of mint and basil.
Allergens: Dairy (milk), Gluten (breadcrumbs)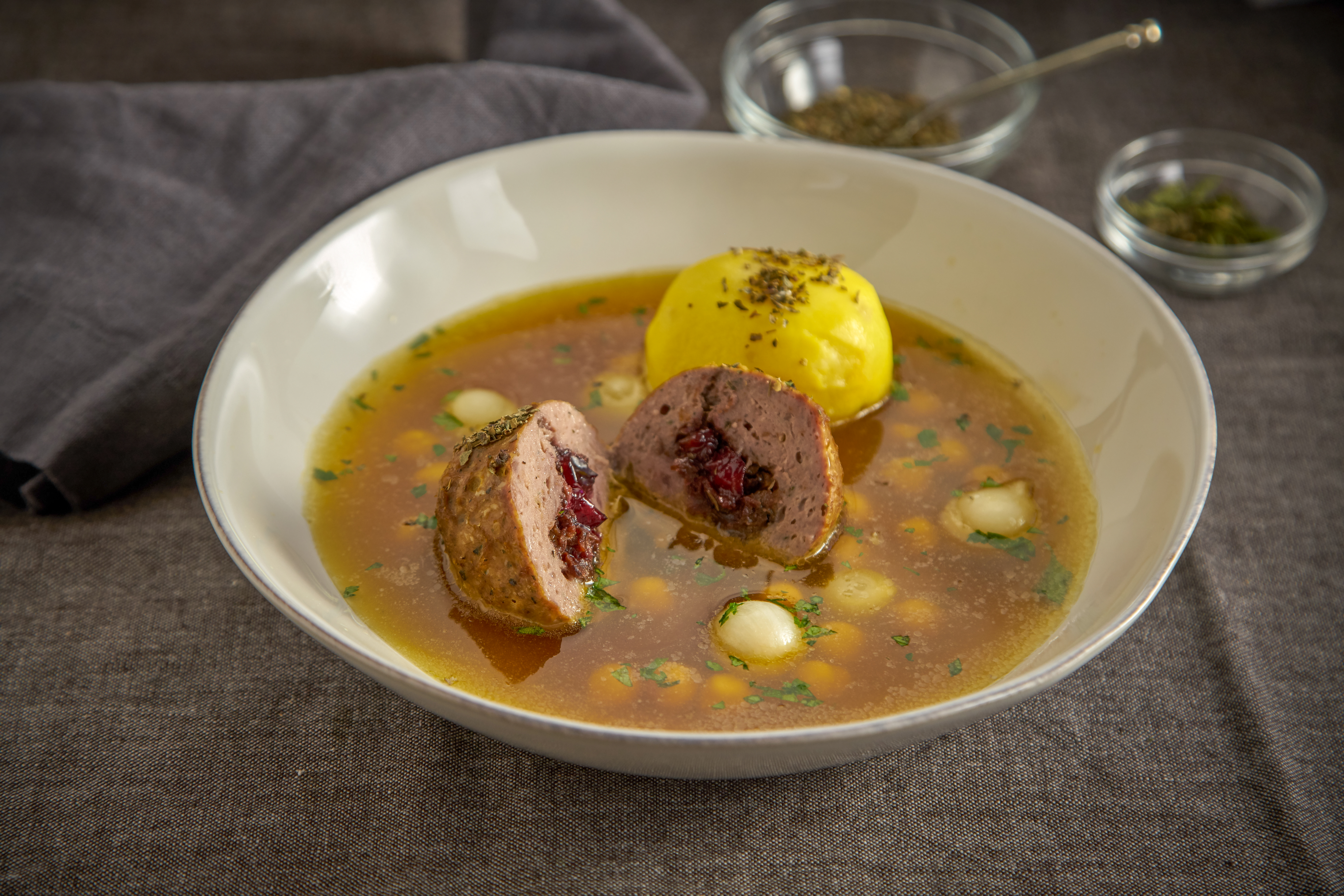 ---
KOFTA BOZBASH INGREDIENTS:
| 5 quarts | Chicken bone broth |
| --- | --- |
| 1¼ teaspoons | Saffron, threads |
| 10 each | Red potato, peeled, left whole |
| 10 each | Lamb Kofta, sub-recipe |
| 40 each | Pearl onions |
| 2½ cups | Chickpeas, canned, drained rinsed |
| 2½ teaspoons | Mint, dried |
| 2½ teaspoons | Basil, dried |
| 2½ teaspoons | Savory, dried |
LAMB KOFTA INGREDIENTS:
1 cup
Whole milk
½ cup
Italian-seasoned breadcrumbs
2 lbs
Lamb, ground
1⅓ Tablespoons
Salt, kosher
2 teaspoons
Mint, chopped
2 teaspoons
Basil, chopped
2 cups
Frozen DOLE

®

Dark Sweet Cherries, chopped
1 cup
Frozen DOLE Red Tart Cherries, chopped
LAMB KOFTA DIRECTIONS:
Add breadcrumbs to whole milk and let absorb for 10 minutes.
In large bowl, combine soaked breadcrumbs, ground lamb, salt, mint and basil, mix until well combined.
Divide meat mixture into 3½ oz portions; roll into balls and set aside.
In separate bowl, combine chopped cherries.
Stuff 1 Tablespoon fruit filling inside the center of each meatball; pinch meat to cover completely.
Hold meatballs covered and refrigerated until ready to cook.
KOFTA BOZBASH DIRECTIONS:
In a deep medium sized pot, bring bone broth to a boil; add saffron threads. Reduce heat and simmer.
Add red potatoes, cover pot and cook for 10-15 minutes, or until potatoes are soft.
Add lamb kofta meatballs to broth, cook for 10 minutes, or until internal temperature of meat reaches 160° F.
In a separate pot, blanch pearl onions in boiling water for 3-4 minutes to cook; peel onions and set aside.
TO SERVE:
Place 1 whole lamb kofta in bowl with 1 whole potato, 4 pearl onions, ¼ cup chickpeas, top with 2 cups bone broth and finish with pinch of saffron, ¼ teaspoon dry mint, dry basil, and dry savory.