Ghapama
A traditional Armenian holiday dish, Ghapama is a stuffed pumpkin filled with rice, cherries, cranberries, dried dates, golden raisins, toasted pecans, toasted walnuts and cinnamon spice, baked whole with the top on.
Allergens: Nuts (pecans, walnuts), Dairy (butter)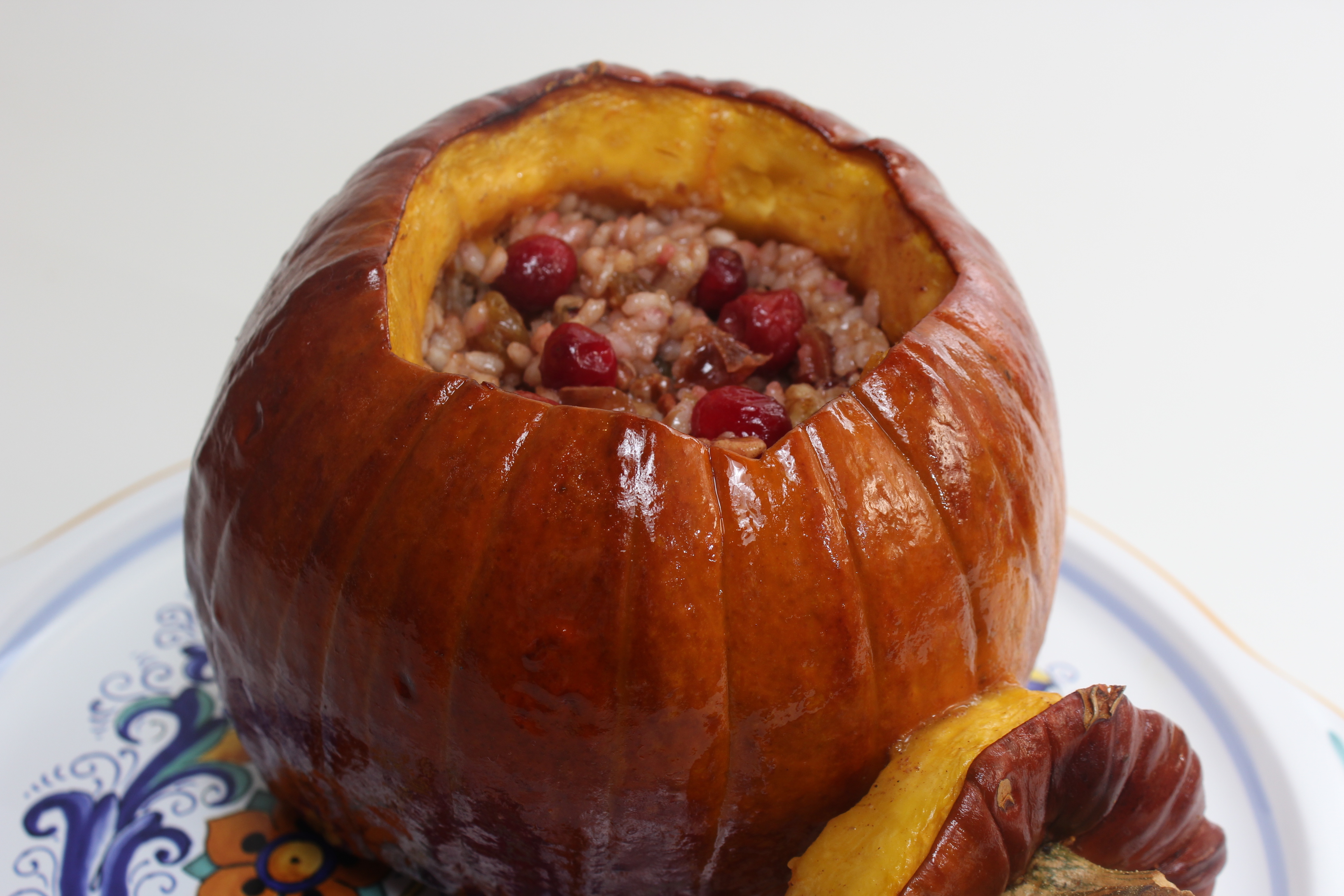 ---
GHAPAMA INGREDIENTS:
10 each
Sugar pumpkin, fresh, whole
10 cups
Rice, medium grain, dry
15 cups
Water
5 cups
Butter, unsalted, melted, divided
5 cups
Frozen DOLE

®

Red Tart Cherries
5 cups
Frozen DOLE Whole Cranberries
2½ cups
Dates, dried, pitted, chopped
2½ cups
Golden raisins
2½ cups
Pecans, toasted, chopped
2½ cups
Walnuts, toasted, chopped
½ cup
Cinnamon, ground
2½ cups
Honey
GHAPAMA DIRECTIONS:
Cap and deseed pumpkin by scraping out inside with a spoon, save cap.
Add water and rice into a pot and bring to a boil. Cover and then reduce to a simmer.
Cook rice until it is half way cooked, about 6-8 minutes.
Drain excess water from rice; cover and set aside.
Using half of melted butter (2 ½ cups), brush inside and outside surfaces of each pumpkin.
Add remaining 2 ½ cups melted butter to rice, stir to combine.
In a large bowl, combine all remaining ingredients; stir until well combined.
Stuff mixture into pumpkins and top each with its cap. Wrap in foil and roast in oven at 350° F for 4 hours, or until the rice is tender and the pumpkin is soft.
TO SERVE:
Place on platter and slice the pumpkin with a knife in eighths.