Asian Sweet & Savory Pancake (Grilled Mandarin Orange Cong Youbing)
A light and flaky pancake filled with minced spring onion, griddled until golden brown. Topped with grilled hoisin-marinated mandarin oranges, topped with fresh spring onion.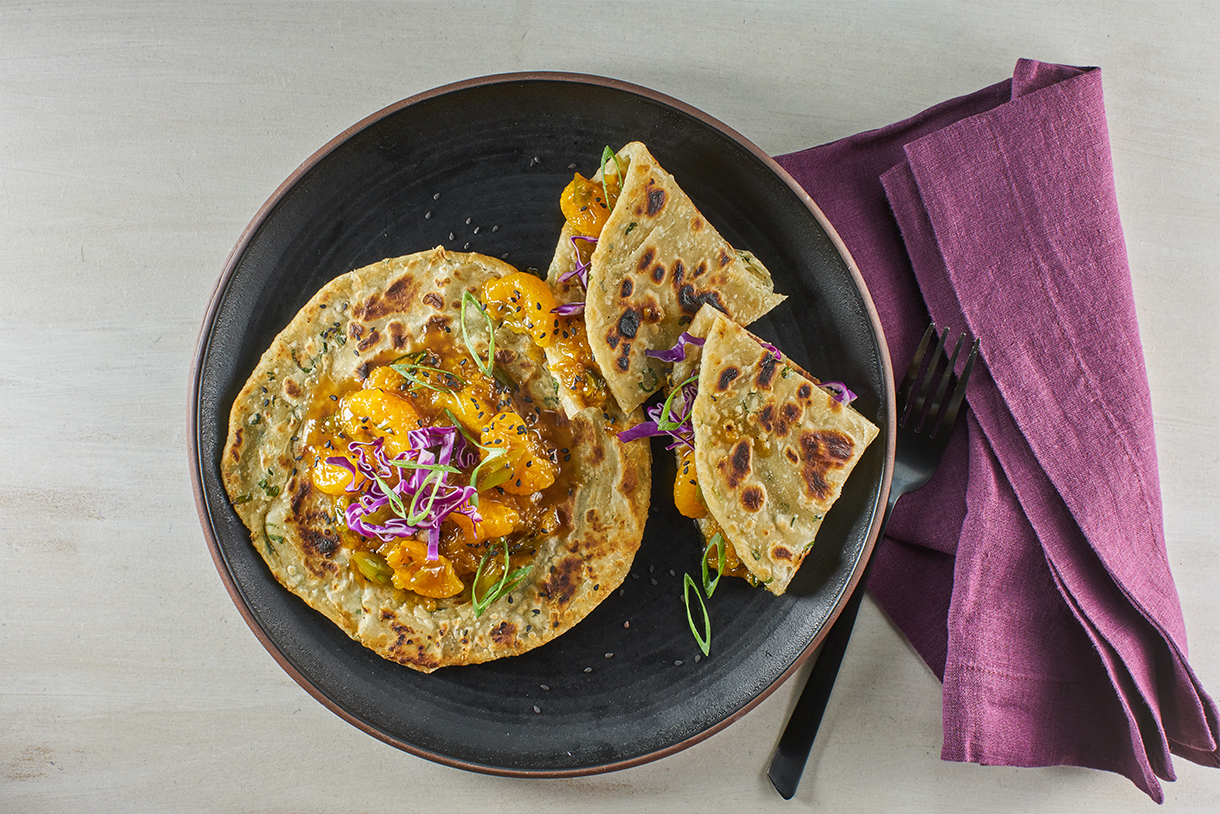 ---
INGREDIENTS
Asian Sweet & Savory Pancake:
20 each
Cong Youbing (prepared Asian pancakes), sub-recipe
2 ½ cups
Hoisin Mandarin Orange Sauce, sub-recipe
2 ½ cups
Purple Cabbage, shaved thin
1 ¼ cups
Scallions, thin slice on bias
⅓ cup
Black sesame seed
Cong Youbing:
4 ¼ cups
All-purpose flour, divided, plus 2 Tablespoons for rolling dough
2 cups
Water, boiling
¾ cup
Vegetable shortening
½ teaspoon
Sichuan pepper, dried, ground
2 teaspoons
Kosher salt
1 cup
Scallions, thin sliced
¾ cup
Vegetable oil
Hoisin Mandarin Oranges:
| 1 tablespoon | Vegetable oil |
| --- | --- |
| 2 cups | Canned DOLE® Mandarin Oranges, drained |
| ¼ cup | Hoisin sauce |
| 1 tablespoon | Toasted sesame oil |
| 1 teaspoon | Ginger, peeled, grated |
| ¼ cup | Water, hot (115°F) |
| 4 each | Scallions, grilled, ½" cut |
STEPS
Hoisin Mandarin Oranges:
Heat vegetable oil in a saucepan over medium-high heat.
Add DOLE Mandarin Oranges and sauté for 2 minutes.
Add hoisin, toasted sesame oil, ginger, and hot water to the pan and cook for 2 minutes.
Add the grilled scallions to sauce mixture and reserve.
Serve warm.
Cong Youbing:
To make the dough, add 4 cups of all-purpose flour to a large bowl. Add boiling water and mix with a wooden spoon until smooth.
Once mixture is cool enough to handle, turn the dough onto a lightly floured surface and knead for 5 minutes. Place kneaded dough into a lightly oiled bowl and cover with a damp towel. Allow dough to rest for at least 30 minutes before rolling.
To make the filling, in a large bowl, mix vegetable shortening, the remaining all-purpose flour, Sichuan pepper and kosher salt into a paste.
Remove dough from the bowl and knead for 1 minute. Divide into 10 equal parts.
Working in batches, on a lightly floured surface, flatten one dough ball into ⅛-inch thick square. Keep the remaining dough balls covered with a damp towel to prevent drying.
Spread 1 ½ teaspoons of the prepared filling onto the flattened dough square and top with 1 Tablespoon of sliced scallion.
Roll the dough from the bottom up to make a small log, then roll the log into a pinwheel and place onto a parchment-lined baking sheet. Cover with a damp towel.
Repeat for remaining dough. Once all the pinwheels have been formed, let them proof for 30 minutes, covered.
Once proofed, using a rolling pin, gently roll each pinwheel out to ¼-inch thickness.
Heat 1 ½ Tablespoons of vegetable oil in a large nonstick pan over medium heat. Once the oil is hot, add 5 pancakes and cook for 3 minutes on each side until golden brown. Remove from oil and drain on a paper towel-lined baking sheet. Repeat for the remaining pancakes.
TO SERVE:
Quarter 2 pancakes and shingle 8 pieces on a plate.
Top with ¼ cup of warm Hoisin Mandarin Orange Sauce and garnish with 1 Tablespoon of purple cabbage, 1 Tablespoon of sliced scallions and 1 teaspoon of black sesame seeds.