Independents and chains alike have embraced the blurring-dayparts breakfast trend. "Finer diner" restaurants are especially getting creative in their dishes, incorporating unique fruit-forward ingredients in their signature takes on breakfast items.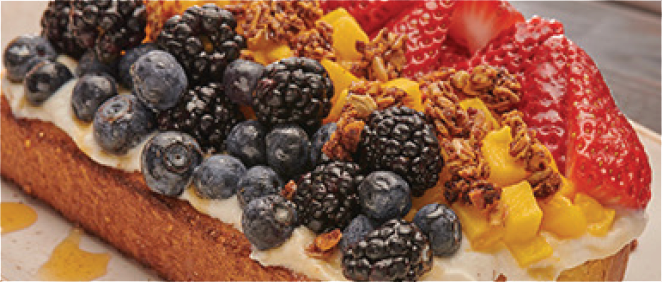 FIRST WATCH (BROOKFIELD, WI)
RAINBOW TOAST:
Blackberries, blueberries, strawberries, mango and housemade granola atop ricotta-covered brioche toast with a drizzle of local honey.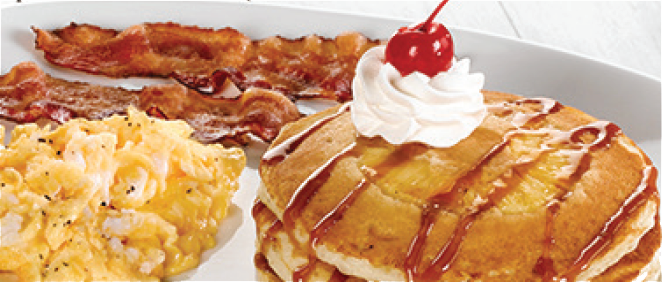 PERKINS (NATIONAL)
PINEAPPLE UPSIDE DOWN PANCAKE PLATTER:
Three made-from-scratch buttermilk pancakes loaded with grilled pineapple and drizzled with caramel topping. Served with eggs and applewood-smoked bacon.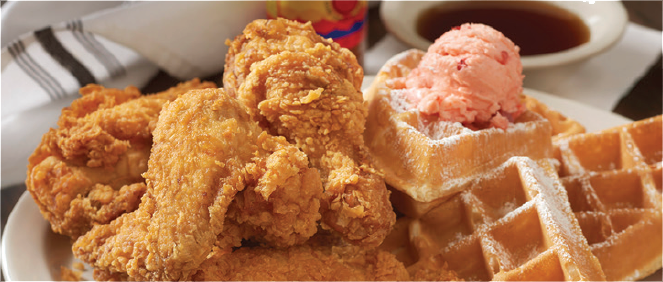 METRO DINER (NATIONAL)
FRIED CHICKEN AND WAFFLE:
Half a fried chicken and a Belgian waffle topped with strawberry butter and served with a sweet and spicy sauce.
FRIENDLY TOAST (PORTSMOUTH, NH)
FRIED CHICKEN AND WAFFLE:
A fresh grilled salmon filet served on a bed of dirty rice and sautéed spinach, topped with two poached eggs and hollandaise, finished with mango-habanero sauce and served with fresh fruit salad.
OF RESTAURANT OPERATORS OFFER BREAKFAST DISHES AT DINNER.
6
SNOOZE (DENVER, CO)
SUNBURST CAKES:
Buttermilk lemon poppy-seed pancakes topped with homemade lemon anglaise, macerated blackberries, citrus mascarpone and toasted almonds.
OF CONSUMERS SAY THEY WOULD VISIT AN

"UPDATED BREAKFAST"

RESTAURANT CONCEPT.

5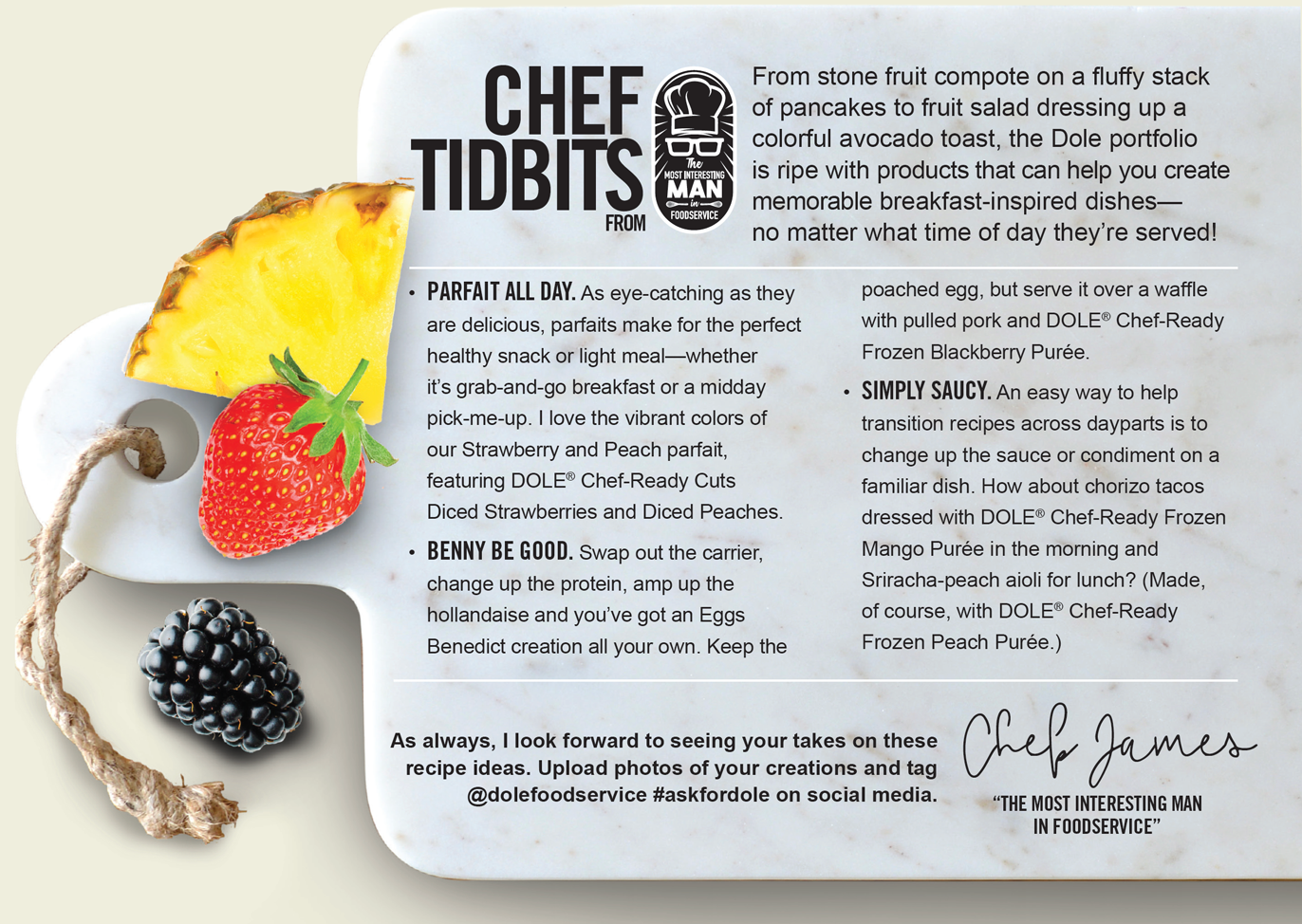 CHEF TIDBITS
From stone fruit compote on a fluffy stack of pancakes to fruit salad dressing up a colorful avocado toast, the Dole portfolio is ripe with products that can help you create memorable breakfast-inspired dishes— no matter what time of day they're served!
PARFAIT ALL DAY. As eye-catching as they are delicious, parfaits make for the perfect healthy snack or light meal—whether it's grab-and-go breakfast or a midday pick-me-up. I love the vibrant colors of our Strawberry and Peach parfait, featuring DOLE® Chef-Ready Cuts Diced Strawberries and Diced Peaches.
BENNY BE GOOD. Swap out the carrier, change up the protein, amp up the hollandaise and you've got an Eggs Benedict creation all your own. Keep the poached egg, but serve it over a waffle with pulled pork and DOLE® Chef-Ready Frozen Blackberry Purée.
SIMPLY SAUCY. An easy way to help transition recipes across dayparts is to change up the sauce or condiment on a familiar dish. How about chorizo tacos dressed with DOLE® Chef-Ready Frozen Mango Purée in the morning and Sriracha-peach aioli for lunch? (Made, of course, with DOLE® Chef-Ready Frozen Peach Purée.)
SOURCES: 1,3 Technomic, "The Breakfast Consumer Trend Report," 2017.
2 Datassential, "Plant-Based Eating: SNAP! Keynote," March 2018.
4 Datassential MenuTrends, Menu Adoption Cycle 2018.
5,6 Datassential, "Creative Concepts: Breakfast." February 2017.